Fit in the Core – FREE Outdoor danceTONE Fitness Class, Sunday Aug. 1st, 10-11 a.m. 🗓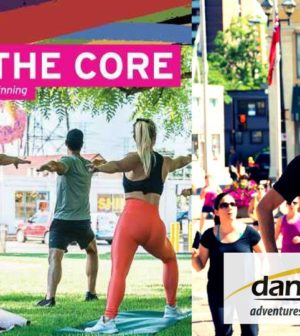 Join danceScape at Fit in the Core on Sunday, August 1st from 10 to 11 a.m. (New Location – Brock Park beside Art Gallery of Burlington/Sunshine Donuts, 450 Nelson Ave, Burlington, ON L7S, Canada), featuring danceTONE cardio! Bring friends and join us for a fun outdoor "Open Air" fitness workout featuring danceTONE Cardio! Trim & Tone to proper Salsa/Latin & Ballroom Dance Steps – Rumba, Cha Cha, Bachata, Salsa, Jive/Swing & other "TikTock-able" steps. Reach up to 5500 steps in 45 minutes. #shallwedance?
danceTONE Fitness Session Highlights
.
danceFLOW qigong/taichi
with danceScapedanceFLOW qigong/taichi is a fusion of qigong/taichi with gentle breathing, stretching, toning and guided meditation exercises to inspirational #dance music (e.g., Indigenous/Ethnic, Middle Eastern, Ballroom/Latin, Argentine Tango, Cuban Rumba, English Waltz, Classical Ballet). This program is particularly suited to those who want a gentler form of fitness and exercise to achieve greater flexibility, range of motion, circulation, and stress or (chronic) pain relief. Explore the ancient Chinese principles of "Ying-Yang", "Taiji" & "Wuji" to breathe correctly and manage internal/external energy flows in order to achieve stress relief, relaxation, flexibility, fitness, energy balance, and healing. These same principles will then be applied through other martial arts and dance-based movements for gentle cardio and muscle toning Some portions of the class may involve seated breathing and meditation exercises.
danceFLOW qigong/taichi Session Highlights
.
For more information about danceScape's danceTONE Fitness and danceFLOW qigong/taichi programs, please visit www.dancescape.com/lessons.
About the Instructors
Robert Tang & Beverley Cayton-Tang are founders of danceScape. They were 3-time Canadian and 2-time North American Ballroom Champions, as seen on Dragons' Den, ParticipACTION's "Get Inspired. Get Moving." fitness campaign, and the Marilyn Dennis Show.