Fit in the Core – FREE Outdoor danceTONE Fitness Class, Sunday Sept. 19th, 10-11 a.m. 🗓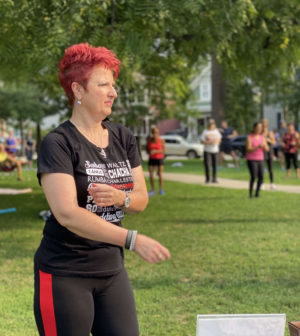 Join danceScape at Fit in the Core on Sunday, September 19th from 10 to 11 a.m. (New Location – Brock Park beside Art Gallery of Burlington/Sunshine Donuts, 450 Nelson Ave, Burlington, ON L7S, Canada), featuring danceTONE cardio! Bring friends and join us for a fun outdoor "Open Air" fitness workout featuring danceTONE/danceFLOW! Trim & Tone to proper Salsa/Latin & Ballroom Dance Steps – Rumba, Cha Cha, Bachata, Salsa, Jive/Swing & other "TikTock-able" steps. Warm Up and Cool down to curated qigong/taichi exercises for flexiblity, mobility and stress/pain relief. Reach up to 5500 steps in 45 minutes. #shallwedance?
Fit in the Core is presented by Lisa-Marie Winning, Winning & Associates IG Private Wealth Management, and proudly sponsored by Mallord Farms Inc.#FitintheCore #FITC #FITC2021 #BurlOn #DTBurlOn #DTBurlingtonOn
Originally, scheduled for Aug. 1st, danceTONE cardio had to be cancelled because of rain and impending Thunderstorm, as posted on Downtown Burlington and danceScape social media. However, we came down just to make sure others got the message … and what a surprise when we met Kimmer who came all the way from Georgetown and who made previous plans to clear her schedule. And then others started to come so we thought we would just do a little danceTONE in the rain (actually, it cleared for about 20 minutes). Thank you for putting up with the iPad but when we return Sunday, September 12th, 10-11 am, we shall have full equipment and sound system. In appreciation for still showing up in the rain, we hope you enjoyed your Sunshine Donuts, with compliments from danceScape and downtown Burlington Business Association.] Life isn't about waiting for the Storm to pass, it's about learning to Dance in the Rain. #shallwedance? danceScape- Adventures in #dance + #fitness#RobertBeverley
danceTONE Fitness Session Highlights
.danceFLOW qigong/taichi with danceScapedanceFLOW qigong/taichi is a fusion of qigong/taichi with gentle breathing, stretching, toning and guided meditation exercises to inspirational #dance music (e.g., Indigenous/Ethnic, Middle Eastern, Ballroom/Latin, Argentine Tango, Cuban Rumba, English Waltz, Classical Ballet). This program is particularly suited to those who want a gentler form of fitness and exercise to achieve greater flexibility, range of motion, circulation, and stress or (chronic) pain relief. Explore the ancient Chinese principles of "Ying-Yang", "Taiji" & "Wuji" to breathe correctly and manage internal/external energy flows in order to achieve stress relief, relaxation, flexibility, fitness, energy balance, and healing. These same principles will then be applied through other martial arts and dance-based movements for gentle cardio and muscle toning Some portions of the class may involve seated breathing and meditation exercises.
danceFLOW qigong/taichi Session Highlights
.
For more information about danceScape's danceTONE Fitness and danceFLOW qigong/taichi programs, please visit www.dancescape.com/lessons.
About the Instructors
Robert Tang & Beverley Cayton-Tang are founders of danceScape. They were 3-time Canadian and 2-time North American Ballroom Champions, as seen on Dragons' Den, ParticipACTION's "Get Inspired. Get Moving." fitness campaign, and the Marilyn Dennis Show.
Scheduled
Events >eZine (local) >News