Fit in the Core – FREE danceTONE Fitness & danceFLOW QiGong/Taichi 🗓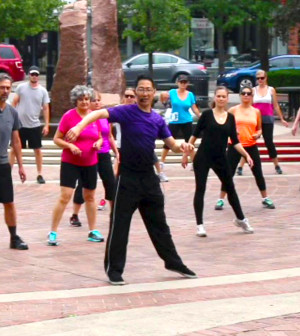 Join danceScape at Burlington Downtown's #FITINTHECORE 2020 — FREE Online fitness classes with danceTONE Cardio on Sunday, August 3rd, and danceFLOW qigong/taichi on October 25th, 10 a.m.
These outdoor classes are normally held at CIVIC Square, 426 Brant Street, beside City Hall in downtown Burlington, Ontario, but with COVID and Social Distancing, this year classes will be available online!
Presented by Winning Wealth Management/Investors Group, Mallord Farm Inc. Bedding Plant Growers and Burlington Downtown Business Association.
SUNDAY, AUG. 3rd, 10 a.m.
danceTONE fitness – Music Driven Body Toning with danceScapeSay "Bye Bye" to gym intimidation and boredom. danceTONE @danceScape is a FUN medium to higher cardio fitness program that incorporates Ballroom, Salsa/Latin, Swing/Jive and other dance steps. Students tracking their cardio fitness progress with fitbits and pedometers have achieved up to 5,500 steps in 55 minutes. Warm-Up begins with "QiGong/TaiChi-based" breathing and stretching exercises followed by a fun fusion of easy-to-learn Rumba, Cha Cha, Salsa, Charleston, Swing/Jive, Merengue, Tango steps that strengthen, tighten and slim the arms, abs, buns, thighs and calves. Styling exercises are also incorporated for those wanting to quickly improve their dancing. No previous dance experience necessary! #shallwedance?
SUNDAY, OCT. 25th, 10 am 
danceFLOW qigong/taichi — Stretching, gentle cardio and muscle toning to inspirational Ballroom, Swing and Latin Dance for greater mobility (range of motion), flexibility, (chronic) pain management and stress relief.
danceTONE Fitness Session Highlights
.
danceFLOW qigong/taichi
with danceScapedanceFLOW qigong/taichi is a fusion of qigong/taichi with gentle breathing, stretching, toning and guided meditation exercises to inspirational #dance music (e.g., Indigenous/Ethnic, Middle Eastern, Ballroom/Latin, Argentine Tango, Cuban Rumba, English Waltz, Classical Ballet). This program is particularly suited to those who want a gentler form of fitness and exercise to achieve greater flexibility, range of motion, circulation, and stress or (chronic) pain relief. Explore the ancient Chinese principles of "Ying-Yang", "Taiji" & "Wuji" to breathe correctly and manage internal/external energy flows in order to achieve stress relief, relaxation, flexibility, fitness, energy balance, and healing. These same principles will then be applied through other martial arts and dance-based movements for gentle cardio and muscle toning Some portions of the class may involve seated breathing and meditation exercises.
danceFLOW qigong/taichi Session Highlights
.
For more information about danceScape's danceTONE Fitness and danceFLOW qigong/taichi programs, please visit www.dancescape.com/lessons.
About the Instructors
Robert Tang & Beverley Cayton-Tang are founders of danceScape. They were 3-time Canadian and 2-time North American Ballroom Champions, as seen on Dragons' Den, ParticipACTION's "Get Inspired. Get Moving." fitness campaign, and the Marilyn Dennis Show.
Scheduled
Events eZine (local) News