#shallwedance? Wedding, Anniversary, Birthday Dance Gift Cards/Certificates, T-Shirts, DVDs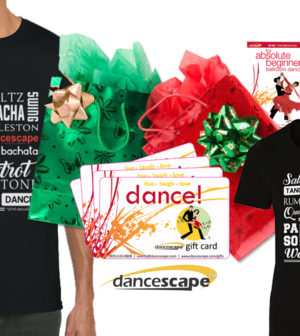 Give the Gift of Fun & Inspiration of Ballroom/Latin Dancing
Looking for Wedding, Engagement, Anniversary, Birthday, Valentines or other Holiday Gift Ideas? Make your shopping easy and fun @danceScape! For Gift Card and Bag Pickups, call 905 633-8808/Email [email protected] to arrange date and time!
Click below to Order/Generate your danceScape Gift Certificates
 online (includes HST) and print out on your computer. Or call us at 905 633-8808 and we'll prepare them for you in gift bags ready for emergency pickup and easy gift giving!
Or click on our
ONLINE DANCE CALENDAR
and select the group workshop that you would like to enrol. If this is a gift, just contact us to prepare in complimentary Gift Bags for pickup at no extra charge! Call 905 633-8808 or Emailing
[email protected]
. #shallwedance?
Inspired by Salsa? Tango? Jive? Waltz? ChaCha? Swing? Rumba? Charleston? Quickstep? Merengue? Bachata? Paso? Lindy? Foxtrot? danceTONE? Your Wedding Dance?
Share your passion for dancing with @danceScape's premium 2-colour T-Shirts.Order Now for pick-up at danceScape (2077 Pine Street, downtown Burlington). Expedited shipping is up to additional an $20 within Canada (contact us for exact pricing to your address by emailing [email protected] or call (905) 633-8808.
@danceScape FACEBOOK SHOP
More Products at www.facebook.com/dancescapeTV/shop