Gift Cards/Certificates – danceScape Adventures in #dance + #fitness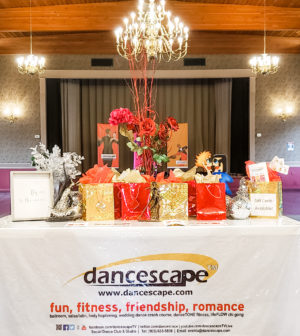 Give the Gift of Fun & Inspiration – Ballroom, Salsa/Latin Dancing, danceTONE/danceFLOW fitness
Looking for Holiday/Christmas, Wedding, Engagement, Anniversary, Birthday, Valentines or other Gift Ideas?
---
I. "GIFT CARD PACKAGE" FOR EASY PICKUP & GIFT GIVING
Make your shopping easy and fun @danceScape. We can prepare a "Gift Bag Package" that includes a Gift Card and Postcard, along with a personalized letter for easy Gift Giving.
Call 905 633-8808 or Email [email protected] to arrange pickup at a date/time convenient for you!
---
II. "DYI" (Do It Yourself) GIFT CERTIFICATE PRINTED FROM HOME
Click below to Order/Generate your danceScape Gift Certificates online (includes HST) and print out on your computer. We can also leave postcards/brochures in our mailbox to pickup at your convenience after hours!
---
Or click on our ONLINE DANCE CALENDAR and select the group workshop that you would like to enrol. If this is a gift, just contact us to prepare in complimentary Gift Bags for pickup at no extra charge! Call 905 633-8808 or Emailing [email protected]. #shallwedance?
Inspired by Salsa? Tango? Jive? Waltz? ChaCha? Swing? Rumba? Charleston? Quickstep? Merengue? Bachata? Paso? Lindy? Foxtrot? danceTONE? Your Wedding Dance?
shopdanceScape.com
More Products at shopdancescape.com