"We are dedicated to having fun, celebrating friendships, and reigniting romance in this adventure called life!" — #shine with #RobertBeverley, #funkymalaysian #glamorousbrit #wearecanadian
Escape to danceScape for adventures in #dance + #fitness. We are a fun Social Dance Club/Studio serving the Social Dance and Fitness community — Ballroom, Salsa/Latin, Wedding Dance, danceTONE Cardio and danceFLOW qigong/taichi. Our mission is to inspire the world to move to music, one dance step at a time.
In-Studio Group Classes/Private Lessons in Downtown Burlington, with Satellite Location for Semi-Private & Private Lessons in Stoney Creek/Hamilton on the Lakeside. PLUS Online Anywhere, Anytime!
We create fun learning and "dance to live music" event experiences — both online and "in-studio" — that inspire, empower and connect people with a passion for music and dance so that they can shine not only on the dance floor but also in their personal and work life. We are dedicated to having fun, celebrating friendships and reigniting romance in this adventure called life.
About danceScape Founders, Robert & Beverley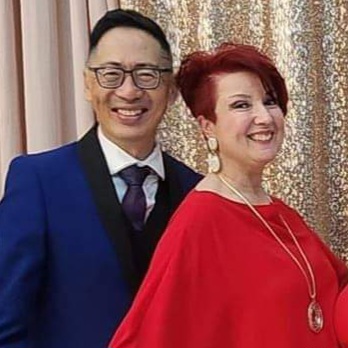 Robert Tang and Beverley Cayton-Tang are 3-time Canadian and 2-time North American Ballroom Champions, as seen on the Marilyn Dennis Show (CTV), Dragons Den (CBC), Healthy Gourmet (Oprah Winfrey Network), Morning Live (CHCH Television), and ParticipACTION's "Get Inspired. Get Moving" fitness campaign. They are recipients of the Award of Distinction from Ontario DanceSport and the Burlington Accessibility Award in Education from the City of Burlington.
Beverley started in her native Bury, Manchester in England as a young 8 year old child who saw the then World Champion, Bobbie Irvine, twirling by in her beautiful ballgown. The moment the feathers brushed her cheeks as she sat mesmerized on the floor, she knew she wanted to wear a ballgown just like hers.
Robert developed a secret "crush" when he and his sister followed their parents to their first Ballroom competition. At some point, his mom turned around to wave at someone. As Robert turned around, he saw a young lady (Beverley) in a turquoise ballgown shimmering with Swarovski crystals. It was love at first sparkle!
They leaped from their corporate jobs to lead the Creativepreneur life! They are Master Coaches with over 20 years in Dance Training, Instructor Development, and Business Coaching.
Subscribe to all our social media channels for upcoming NEW blog posts and articles that inspire, empower and connect other creative entrepreneurs in the arts, dance, fitness and wellness industries – facebook, instagram, youtube. Download our FREE Video app at www.dancescape.com/app and start learning to dance online.