Home
>
eZine (global)
>
Video App – Learn to Dance on Your Cell Phone/iPad (Android or iOS)
Video App – Learn to Dance on Your Cell Phone/iPad (Android or iOS)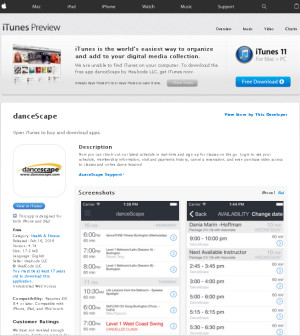 danceScape.TV VIDEO LEARNING App
danceScape's Online Video Learning App is included in annual flexplans. It is also available for purchasing/downloading (see plans below) on Apple iOS or Google Play/Android on your cell phone, iPad or tablet! Learn to Dance online – Ballroom, Salsa, Cha Cha, Rumba, Tango, Foxtrot, Quickstep, Wedding Dance, Swing/Jive, Merengue, Bachata, danceFLOW QiGong, danceTONE Fitness and more! Download this personal training app today!
Choose from …
Presented by Robert Tang & Beverley Cayton-Tang, 3-time Canadian & 2-time North American Ballroom Champions as seen on Dragons' Den, Healthy Gourmet and ParticipACTION's "Get Inspired. Get Moving" fitness campaign.
Join us also for LIVE Video Tutorials on our facebook page at www.facebook.com/dancescapeTV.
FREE danceScape IN-STUDIO CLASS SCHEDULE App
If your are attending a danceScape "In-Studio" Class at our downtown Burlington and Milton locations, a Schedule App is available FREE for download on Apple iOS or Google Play/Android on your cell phone, iPad or tablet! See our "in-studio" class schedule at a glance, as well as book Private Lessons at a location near you (Downtown Burlington, Milton, Stoney Creek), or virtually on Skype/Google Hangouts/Apple facetime.
Video App – Learn to Dance Online
danceScape Music Playlists
Shall We Dance?
danceScape Radio Podcasts
Archives
facebookLIVE Mini Tutorial – Waltz
facebookLIVE Mini Tutorial – Cha Cha
facebookLIVE Tutorial – Swing/Jive
Copyright © 1997-2014 danceScape[TM] Corporation. All rights reserved. Website developed by ROBERT TANG.