FREE 21-Day "Virtual Staycation Retreat" — LIVE Online Classes in Ballroom, Salsa, Wedding Dance Lessons! 🗓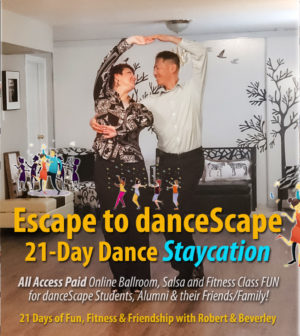 danceScape typically runs Open Houses in our downtown Burlington location (2077 Pine Street) and were originally scheduled for Monday, May 4th or Thursday, May 7th from 7 to 9 p.m.  In light of COVID-19 Social Distancing Government & Health Authority Restrictions, please note there will be no "In Studio" Open Houses.
HOWEVER, we are pleased to present our FUN Escape to danceScape"21 Day Virtual Staycation", where for 21 days, you can try out FREE LIVE Online Lessons in Ballroom, Salsa, danceTONE cardio, danceFLOW qigong/taichi and more. Starts April 20th!
Hosted by Robert Tang & Beverley Cayton-Tang,  3-time Canadian and 2-time North American Champions, as seen on the Marilyn Dennis Show, Dragon's Den, Healthy Gourmet and ParticipACTION's "Get Inspired. Get Moving." fitness campaign.  They have created a simple but powerful system that will give you the foundation for Ballroom, Salsa and Jive/Swing that you can immediately use at any Wedding, Anniversary, Christmas, New Year's Eve Party, Salsa Club or other Gala Big Band event. Or for Stress, Anxiety and Pain Management at home.
Register below, call (905) 633-8808, or E-mail [email protected]. Check off your "Bucket List" and learn to dance for fun, fitness, friendship, or romance! Waltz, Cha Cha, Salsa, Tango, or Swing/Jive your way to a weekly dance escape. Shall we dance?
About danceScape "In Studio Open Houses"
Before the current COVID-19 Social Distancing Restrictions, each January, May, September & December, danceScape hosts formal OPEN HOUSES where you can try out FREE Dance lessons. Enjoy complimentary refreshments, experience learning in a 3,500 s.f. Ballroom, and meet the Instructor team.
You can continue to RSVP to attend dates for our "Dance Crash Course" Open House sand we will then notify you when these are able to resume t our Studio once COVID restrictions are lifted from local government and health authorities. You'll then be able to learn at the Studio … Ballroom, Salsa/Latin, Swing/Jive, danceTONE fitness (incorporating rumba, cha cha, salsa, tango & more), danceFLOW qigong/taichi, and Wedding Dance Crash Course.
If you are unable to attend or missed our Open House(s), you can arrange a FREE "NEWCOMERS DROP-IN" information session on Monday Evenings from 8:00 to 9:00 p.m. Partner not necessary. RSVP today so a danceScape Ambassador can prepare your information package and FREE Class Pass! Register below, call 905 633-808 or Email [email protected] today.