"Dance Crash Course" Spring/May OPEN HOUSES – Join us May 4th & 7th in downtown Burlington for Ballroom, Salsa, Wedding Dance Lessons! 🗓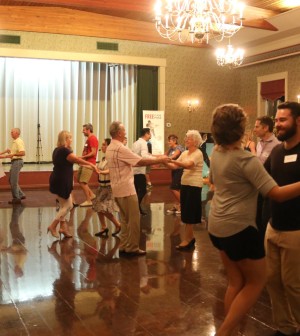 RSVP to attend our "Dance Crash Course" Spring/May Open House. Ask for your two FREE Admission Tickets to either Monday, May 4th or Thursday, May 7th from 7 to 9 p.m. at danceScape in downtown Burlington (2077 Pine St. at Pearl) where you will learn Ballroom, Salsa/Latin, Swing/Jive, danceTONE fitness (incorporating rumba, cha cha, salsa, tango & more), danceFLOW qigong/taichi, and Wedding Dance Crash Course.
The event is hosted by Robert Tang & Beverley Cayton-Tang who are 3-time Canadian and 2-time North American Champions, as seen on the Marilyn Dennis Show, Dragon's Den, Healthy Gourmet and ParticipACTION's "Get Inspired. Get Moving." fitness campaign.  They have created a simple but powerful system that will give you the foundation for Ballroom, Salsa and Jive/Swing that you can immediately use at any Wedding, Anniversary, Christmas, New Year's Eve Party, Salsa Club or other Gala Big Band event.
Register below, call (905) 633-8808, or E-mail events@dancescape.com. Check off your "Bucket List" and learn to dance for fun, fitness, friendship, or romance! Waltz, Cha Cha, Salsa, Tango, or Swing/Jive your way to a weekly dance escape. Shall we dance?
Each January, May, September & December, danceScape hosts formal OPEN HOUSES where you can try out FREE Dance lessons. Enjoy complimentary refreshments, experience learning in a 3,500 s.f. Ballroom, and meet the Instructor team.
If you are unable to attend or missed our Open House(s), you can still arrange a FREE "NEWCOMERS DROP-IN" information session on Monday Evenings from 8:00 to 9:00 p.m. Partner not necessary. RSVP today so a danceScape Ambassador can prepare your information package and FREE Class Pass! Register below, call 905 633-808 or Email events@dancescape.com today.