danceScape eZine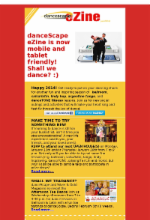 Subscribe to danceScape eZine, and get the latest dance news locally and around the world! This online magazine is published by danceScape, a leading provider of dance-based learning, lifestyle, and entertainment services. Our mission is to inspire, empower, and connect people who have a passion for Dance. We help people become shining stars in life and dancing stars at social events.
Video App – Learn to Dance Online
danceScape Music Playlists
Shall We Dance?
danceScape Radio Podcasts
Archives
facebookLIVE Mini Tutorial – Waltz
facebookLIVE Mini Tutorial – Cha Cha
facebookLIVE Tutorial – Swing/Jive
Copyright © 1997-2014 danceScape[TM] Corporation. All rights reserved. Website developed by ROBERT TANG.