danceTONE Fitness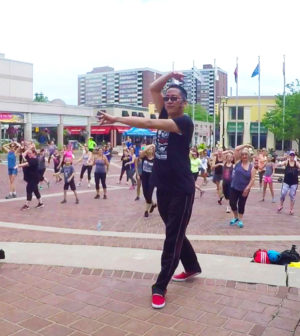 For BOTH Women and Men who want to:
Emphasis on Cardio and Toning
Strengthen, Tone, Slim and Tighten the Arms, Abs, Buns, Thighs and Calves.
Increase Stamina, Flexibility, Mobility and Mind/Body Coordination.
Learn Proper Steps to be able to eventually take Partner-based Ballroom or Latin Classes.
Reinforce Steps and Accelerate Learning for Intermediate and Advance Level Classes.
danceTONE is a FUN medium to higher cardio fitness program that incorporates Ballroom, Salsa/Latin, Swing/Jive and other dance steps. Warm-Up begins with "QiGong/TaiChi-based" breathing and stretching exercises followed by a fun fusion of easy-to-learn Rumba, Cha Cha, Salsa, Charleston, Swing/Jive, Tango steps that strengthen, tighten and slim the arms, abs, buns, thighs and calves. Styling exercises are also incorporated for those wanting to quickly improve their dancing. No previous dance experience necessary! Open to BOTH Women & Men! No dance experience necessary!
For those who want a gentler form of exercise, danceScape also offers
danceFLOW QiGong/TaiChi
which emphasizes Mobility, Mindfullness, and Stress or Pain Management.
Classes
danceTONE is offered Mondays and Wednesdays at 6:00 p.m. and danceFLOW QiGong/TaiChi is offered on Thursdays at 6:00 p.m. See registration information below. Ask about danceTONE and other FUN medium cardio Ballroom/Latin dance-based Fitness or Corporate Wellness programs that can be brought into your workplace! Contact danceScape at
info@dancescape.com
.