Wedding Saviours Hamilton-Niagara Launch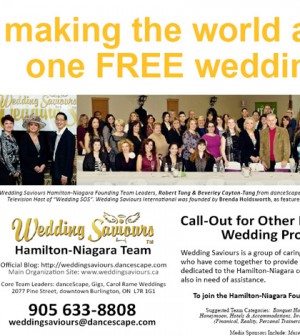 danceScape is pleased to be part of the founding team of Wedding Saviours wedding professionals and business partners who have come together to provide a FREE Wedding Day for couples in need of assistance. Click here for our list of recommended Wedding Saviours Partners.
"FREE WEDDING CONTEST" LAUNCH FOR COUPLES IN NEED
We are launching a "Wedding Saviours Hamilton-Niagara" Team consisting of local Wedding Service Providers/Vendors/Suppliers who are coming together to donate Products or Services and organize a "Free Wedding Contest" to a couple in need. There have already been other successful chapters covered by the Media in Halton-Peel, Toronto, and Kitchener-Waterloo and we are launching the new Hamilton-Niagara Contest. Media sponsors already include Snap Newspapers, but our plan is to secure  coverage with other Media outlets such as CHCH Television, Spectator, Post, and Wedding Industry Publications.
LOCAL & NATIONAL PRESS/MEDIA COVERAGE FOR "COMMUNITY-MINDED" BUSINESSES
Wedding Saviours was founded by Brenda Holdsworth and Jane Dayus-Hinch (Celebrity Wedding Planner from the Television Show, "Wedding SOS"). The goal is to give couples who are unable to afford their own wedding, an opportunity to be part of a Contest that enables them to rally community support, organize food drives that "pays it forward" to a local Food Bank, in order to qualify.
Other chapters have already provided (or are providing) complimentary Weddings, and our plan is to do the same for Hamilton-Niagara:
Jhonavel & Rolan Matias (Wedding Saviours – Halton/Peel). This young couple has a son who was diagnosed with Brain Cancer, and they had held off their own wedding because of financial hardship. They were married on April 12th. See Global Television's coverage.
Sarah Taylor & Keith Childerhose (Wedding Saviours – Greater Toronto Area Contest Winners). The groom, Keith, is a double lung transplant recipient, and the couple was married on October 27th. See CITY Television's coverage

.

Kristina Wigg & Joel Hammond (Wedding Saviours – Kitchener/Waterloo Contest Winners). The bride, Kristina, has a rare condition in which fluid has built up in her spine and she has been undergoing brain and spinal surgery. They were married on November 8th. See Guelph Mercury Newspaper Coverage.
NEW WEDDING LEADS & WEDDING INDUSTRY BUSINESS NETWORKING
We are reaching out to community-minded "Restaurant/Dining Partners" who may wish to donate at least "ONE" Dining Experience for a "Table of Eight People" at the Winning Couple's Wedding. (We anticipate that there could be up to 10 tables, and therefore up to a maximum of 10 participating Restaurant/Dining Partners.)
We are also reaching out to other Businesses in categories such as Catering, Décor, Favours, Financial Services, Flowers, Gowns, Health & Beauty (Hair, Makeup), Honeymoon, Hotels & Accommodations, Jewellery, Musicians, Parties & Stags, Photographers, Services – Legal, Services – Realty, Videographers, Wedding Attire, Wedding Cakes, Wedding Planners, etc.
We would give recognition not only at the event, but in all Press (Television/Newspaper) and Social Media Opportunities.
My own company, danceScape, is donating "Wedding Dance Lessons", as well as the Location/Facility for the Wedding here in downtown Burlington. We are anticipating running the official contest in December and having the actual Wedding in March or April (a Friday or Sunday) based on Team Feedback.
As Hamilton-Niagara Team Leaders, we would work with participating businesses to secure joint Press/Media/Television coverage through an interactive online Contest conducted through WeddingSaviours.ca directory as well as Social Media Marketing Awareness and Promotion. As well, we would plan Business Networking and Lead Generation Opportunities through the Wedding Saviours Online Team Directory.
CONTEST DETAILS

Although you will need to read the full contest details, here are some of the basics:
Enter the Free Wedding Contest, submitting your online entry form.
Start looking for ways to 'Pay-It-Forward' in your community (watch for some ideas over the next few days!
Based on our selection criteria, up to 25 of the top entries will be posted on our website for public voting.  During this voting period, contestants will 'Pay-It-Forward' in their community, blogging and sharing their experiences.
The top 10 semi-finalists (based on public votes) will then meet with our judging panel for the next elimination round.
The three remaining finalists will compete in our "Challenge For Charity" and a final public vote, with the Grand Prize winner being selected.
Jane Dayus-Hinch, host of Slice Television's reality show "Wedding SOS", is one of Britain's and Canada's top wedding planners — celebrity, socialites and even royalty have benefited from her skills at pulling off the perfect wedding.
Jane is the GTA Team Leader at Wedding Saviours, and danceScape's Robert Tang & Beverley Cayton-Tang are part of her GTA Team helping couples with their Wedding Dance Crash Course program.
The concept was founded on Chief Wedding Officer (CWO) Brenda Holdsworth's desire to give back to her own community and to network through social media with other Wedding professionals in her area. The idea for a Pay-it-Forward Marketplace to share proceeds with Charity is timely and you can search their Wedding Directory which introduces couples to the many businesses dedicated to making wedding dreams come true.
Announcing Wedding Saviours Hamilton-Niagara
In addition to being part of the GTA Team (and soon, Halton-Peel) team, danceScape has joined Wedding Saviours to soon launch a FREE WEDDING in the Hamilton/Niagara area for a needy couple. We are now assembling a team of Wedding Professionals for the Hamilton/Niagara area. Please contact us at 905 633-8808 or E-mai l[email protected] for more information about how you can become part of the Wedding Saviours Team!
Robert Tang & Beverley Cayton-Tang are former 3-time Canadian & 2-time North American Amateur Standard Champions, as seen on CBC Television's "Dragons' Den", Oprah Winfrey Network's "Healthy Gourmet", and ParticipACTION Canada's "Get Inspired. Get Moving" television campaign. They were also featured on "Groomed" with the "Butler", Paul Hogan in teaching couples their Wedding Dance Crash Course program.
Thanks to Stacey Newman at Stacey Newman Photography for wonderful group photo, and photo with Jane. For more info., visitwww.staceynewmanphotography.com.