Shall We Dance on City-TV?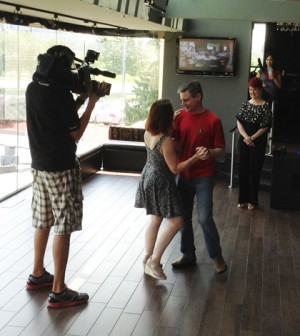 Congratulations to Keith Childerhose and Sarah Taylor, who are the winners of a FREE Wedding provided by Wedding Saviours, a group of community-minded Wedding professionals who have come together to help couples in hardship to have their dream wedding. City-TV reporter Andrea Piunno was on-site at The Vue to interview this wonderful couple. Keith is a double lung transplant recipient and both are advocates of organ donation.
Wedding Saviours was founded by Brenda Holdsworth (centre), who along with Jane Dayus-Hinch from Wedding SOS, have been working hard with Wedding Planner Extraordinaire & Team Leader of Wedding Saviours GTA, Eddie Sulliman to prepare for Keith & Sarah's October Wedding at The Vue in Etobicoke.
danceScape's Robert Tang & Beverley Cayton-Tang are donating Wedding lessons to help them prepare for their First Dance.  Robert & Beverley were inspired to launch Wedding Saviours Hamilton-Niagara.
The new  "Wedding Saviours Hamilton-Niagara" Team consisting of local Wedding Service Providers/Vendors/Suppliers who are coming together to donate Products or Services and organize a "Free Wedding Contest" to a couple in need. There have already been other successful chapters covered by the Media in Halton-Peel, Toronto, and Kitchener-Waterloo and we are launching the new Hamilton-Niagara Contest. Media sponsors already include Snap Newspapers, but our plan is to secure  coverage with other Media outlets such as CHCH Television, Spectator, Post, and Wedding Industry Publications.
We are reaching out to community-minded "Restaurant/Dining Partners" who may wish to donate at least "ONE" Dining Experience for a "Table of Eight People" at the Winning Couple's Wedding. (We anticipate that there could be up to 10 tables, and therefore up to a maximum of 10 participating Restaurant/Dining Partners.)
We are also reaching out to other Businesses in categories such as Catering, Décor, Favours, Financial Services, Flowers, Gowns, Health & Beauty (Hair, Makeup), Honeymoon, Hotels & Accommodations, Jewellery, Musicians, Parties & Stags, Photographers, Services – Legal, Services – Realty, Videographers, Wedding Attire, Wedding Cakes, Wedding Planners, etc.
We would give recognition not only at the event, but in all Press (Television/Newspaper) and Social Media Opportunities.
If you would like to be part of our team, please speak to them at the studio, or E-mail [email protected] and ask how you can be involved! More information is available at http://weddingsaviours.dancescape.com.