Sound of Music Festival – 2016 Student Performer PRIVATE Area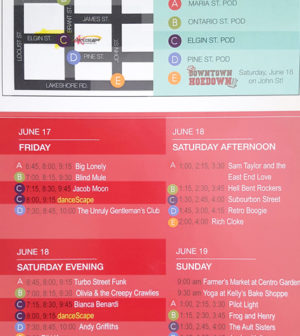 CHOREOGRAPHY FRAMEWORK/REHEARSALS
On behalf of the 
Burlington Sound of Music Festival "Streetfest"
 and 
danceScape
 with 
Gigs Entertainment
/
DJ Central
,  many thanks for being part of this year's student performances! danceScape's mission is to inspire others from across generations to laugh, be fit, make fun friends, and experience romance through Dance. Thank you for passion to helping us share this, not only in Burlington, Hamilton, Milton, Oakville & surrounding areas but also around the world through 
facebook
 ,
twitter
, and other social media. In addition to photos and videos by
NB New Media
, we will be trying out our new
360 Videocam
as well as possibly
facebook livestreaming
 to capture how you have challenged yourselves to do something outside your comfort zone, and inspiring others through your performances.
Below are the latest videos of OVERVIEW CHOREOGRAPHY/REHEARSALS (Previous videos are also archived in links below), as well as a summary of timelines and other tools to help you. We will next focus on finalizing and polishing for the festival! Although this page is PRIVATE/CONFIDENTIAL, feel free to share photos and videos on our facebook page. If you have any questions/suggestions, please email directly to [email protected]. Many thanks again!
20160613 – SOM PRACTICE DAY 03 – ENTRIES/EXITS

Click below for PDF Files (Volunteers & Student Performers)
FRIDAY SCHEDULE | SATURDAY SCHEDULE
---
20160613 – SOM PRACTICE DAY 04 – "CAKE BY THE OCEAN"/DNCE (Cha Cha Framework)


Click here to download MP3 Music File – Cake By the Ocean by DNCE 112bpm ("Right Click" w. Mouse to Save)
Click here for Official Music Video (Clean) | Click here for Official Music Video (Explicit)
Click here for Summary PDF (June 13th) or Detailed PDF ("Right Click" w. Mouse to Save)
Costume/Dress Concept – "Cruise Wear/Summer Beach Wedding". Click here for Dress Ideas ("Right Click" w. Mouse to Save)
Video Archive – Day 01 | Day 02 | Day 02 (Tanja/Gord Crash Course) | Day 03 – Take 01 | Take 02 | Day 04
Performing Students –
Friday

ChaCha danceTONE – ChaCha danceTONE – [Gaby, Pat], Lucinda, [Carol (8 pm only), Tanja]
ChaCha Couples – [Shari/Andrew, Su/Matt], [Stephanie/Peter, *Hailey/Braden, *Doris/Alfred]

Saturday

ChaCha danceTONE –  [Gaby, Pat], [Lucinda, Carol (8 pm only)]
ChaCha Couples – [Shari/Andrew, Su/Matt], [Tanja/Gord, Stephanie/Peter, *Hailey/Braden]
---
20160613 – SOM PRACTICE DAY 04 – "7 YEARS"/LUKAS GRAHAM (Ensemble Framework)


Click here to download MP3 Music File – 7 Years by Lukas Graham ("Right Click" Mouse to Save)
Click here for Official Music Video (Clean) | Click here for Official Music Video (Explicit)
Click here for Summary PDF (June 13th) or Detailed PDF ("Right Click" w. Mouse to Save)
Costume/Dress Concept – TBD (or stay dressed in your Outfit from other Performance Piece, if doing Multiple Performances).
Video Archive – Day 01 | Day 02 | Day 03 | Day 04 – Take 01 | Take 02 | Matt/Carmen
Performing Students –
Friday

[Alex/Kay/Jennifer/Ralph/Curtis] — {Once7: Alex/Jennifer, By11: Curtis/Jennifer, Once11: Alex/Kay]}
[Once20: [Stephanie/Peter, Su/Matt], [Braden/Hailey, {Logini/Collin}; Curtis/Ralph]], [Soon30: Shari/Andrew, Carmen/Matt]
[Soon60: Lucinda/Larry, Doris/Alfred]

Saturday

[Lillian, Alex/Kay/Jennifer/Ralph/Curtis] — {Once7: Alex/Jennifer, By11: Curtis/Jennifer, Once11: Alex/Kay]}
[Once20: [Stephanie/Peter, Logini/.Collin], [{Braden/Hailey}; Curtis/Ralph]], [Soon30: Shari/Andrew, Carmen/Matt]
[Soon60: Lucinda/Larry, Tanja/Gord, Sunny/George]
---
20160613 – SOM PRACTICE DAY 03 – "CHEAP THRILLS"/SIA (Salsa Framework)


Click here for Extra Video Tutorial (danceTONE Samba/Salsa 0.00 | Couples Salsa 3.37) ("Right Click" w. Mouse to Save)
Click here download MP3 Music File – Cheap Thrills by Sia
Click here for Official Music Video
Click here for Summary PDF (June 13th) or Detailed PDF ("Right Click" w. Mouse to Save)
Costume/Dress Concept – Black for Men; Mix of "Red & Black" Combo for Ladies. Possibly "Sia Wigs" or Feather Headress/Masquerade Masks for danceTONE Ladies.
Video Archive – Day 01 | Day 02 | Day 03 – Take 01 | Take 02 | Sunny/George
Performing Students –
Friday

SambaSalsa danceTONE – [Gaby, Pat], Lucinda, [Carol (8 pm only), Tanja]
Salsa Couples – Logini/Collin, Elishia/Zak, Dania/Curtis, Sunny/George

Saturday

SambaSalsa danceTONE – [Gaby, Pat], [Lucinda, Tanja]
Salsa Couples – Logini/Collin, Elishia/Zak, Dania/Curtis, Sunny/George
---
20160613 – SOM PRACTICE DAY 04 – "PRIDE OF ERIN"/AINT YOUR MAMA (OldTyme/Merengue Framework)


Click here to download MP3 Music File – Pride of Erin/Aint Your Mama by Aussie Pride/Jennifer Lopez ("Right Click" w. Mouse to Save)
Click here for Official Music Video 1 (Clean) | Click here for Official Music Video 2 (Clean)
Costume Concept – Summer Dresses for Ladies; Black Pants/Shirt for Men; Possibly Aprons for Ladies & Crowns for Men for Pride of Erin; Then Apron off for Ladies & Take Crown from Men for Merengue.
Video Archive – Day 01 | Day 02 | Day 03 – Take 01 | Take 02 | Day 04
Performing Students –
Friday – Couples (Jeanne/Gordon, MaryLou/Leona, Joan/Bruce, Jeanette/Marion w. Robert (at diff. showtimes))
Saturday – Couples (Jeanne/Gordon, MaryLou/Leona, Joan/Bruce, Jeanette/Marion w. Robert (at diff. showtimes))
---
SUMMARY PRACTICE & PERFORMANCE DETAILS
Click below for PDF Files (Volunteers & Student Performers)
FRIDAY SCHEDULE | SATURDAY SCHEDULE
SOUND OF MUSIC FESTIVAL 2016
SHOWTIMES: Friday, June 17th – Showtimes 8:00 and 9:15 p.m.
SHOWTIMES: Saturday, June 18th – Showtimes 8:00 and 9:15 p.m.
EVENT LOCATION: Elgin/Brant Pod, between Queen's Head Pub & Coffee Culture (danceScape Booth located at Brant Street/Elgin Street corner. See Map below.)

Setup Volunteers should arrive no later than 5:30 p.m.
Gigs/DJ Central to arrive by 6:15 p.m.
All performers/participants should arrive at least 60 minutes before Showtime (i.e., 7:00 p.m. for final "run-throughs")
Parking is available at danceScape Hall, but PLEASE NOTE that this will be a "fundraiser" for the Church with a $10 donation per car; Or come early to find Free Street Parking on the Streets!

Available Practices

Burlington – Monday June 6 & 13 – 7 to 9 p.m. (Burlington location, 2077 Pine Street for ALL)
Burlington – Wednesday, June 15th, 2 to 3 p.m. for Burl. Sen. Centre Students (Burlington location, 2077 Pine Street)
Burlington – Thursday June 2, 9 & 16 – 7 to 8 p.m. (Burlington location, 2077 Pine Street for ALL)
Milton – Friday, June 3, 10 – 7-8 p.m. (Salsa for Milton Students – danceScape at Dance Etc., 348 Bronte St S #9)