Top 40 Song Ideas for Your Wedding "First Dance"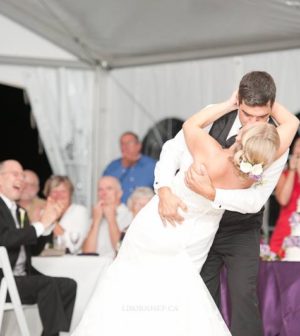 Now that the planning of your Wedding Venue, Food, Bridal Gown, and Honeymoon is well underway, it's time to think about your First Song!
The First Song is the centrepiece of your Wedding reception and enables you to share the story of your love through music and dance. It may be that special tune that played during your first date or when he/she first proposed; or one that reflects your fun personalities and views about love and life.
If you're on the quest for the most meaningful and/or fun songs for your First Dance, take a listen to danceScape's Top 40 First Dance Songs, as shared (and danced) by some of our Wedding students:
First Dance Foxtrot Songs
It Had to Be You (Harry Connick Jr.)
Mango Tree (Zac Brown Band, featuring Sara Bareilles)
Such Great Heights (Iron & Wine)
The Rose (Westlife)
What a Wonderful World (Louis Armstrong)
First Dance Rumba Songs
All of Me (John Legend & Lindsey Stirling)
Dance With Me (Johnny Reid)
Rest of My Life (Bruno Mars)
The Book of Love (Peter Gabriel)
Thinking Out Loud (Ed Sheeran)
First Dance Slow Waltz Songs
Amore E Musica (Russell Watson)
Cherie, I Love You (Nat King Cole)
Come Away with Me (Norah Jones)
I Will Love You (Richard Chamberlain)
Kissing You from Romeo & Juliet (Des'ree)
First Dance Fast/Viennese Waltz Songs
A Thousand Years (Christina Perri)
Earned It (The Weeknd)
Iris (Goo Goo Dolls)
Right Next to the Right One (Celline Dion)
What a Wonderful World (Michael Buble)
First Dance Tango Songs
Assassination Tango (John Powell)
And She Was (Talking Heads)
Libertango (Tango Jointz)
Royals (Lorde)
Tango Tres (Medialuna Tango Project)
First Dance Cha Cha Songs
Get Lucky (Daft Punk)
Happy (Pharrell Williams)
Nobody (Wonder Girls)
Save the Last Dance for Me (Michael Buble)
Sway (Michael Buble)
First Dance Swing/Jive Songs
All I Do is Dream of You (Michael Buble)
Crazy Little Thing Called Love (Michael Buble)
I Wonder (Bobby Brazini)
Lucky (Jason Mraz feat. Colbie Caillat)
Stand By Me (Ben E. King)
First Dance Salsa Songs
Ain't Your Mama (Jennifer Lopez)
Do You Only Wanna Dance (Julio Daviel Big Band)
No (Meghan Trainor)
Vivir Mi Vida (Marc Anthony)
Say Hey/I Love You (Michael Franti & Spearhead)
Not only can the songs be danced as a single Dance style, but those seeking to showcase their fun personalities can also use multiple songs in a "Mash-Up" of dance styles that will surprise and delight family and friends.
For those with your Wedding Day fast approaching, make sure you leave enough time to prepare for your First Dance. danceScape's Wedding Dance Crash Course program is specifically designed for absolute beginners — no prior Ballroom, Latin, or Salsa experience necessary. Plus, you can learn at any of our studio/satellite locations (e.g., downtown Burlington, Milton, Stoney Creek) or online using Skype, Google Hangout, or Video App. Call 905 633-8808, Email events@dancescape.com or visit us online at www.dancescape.com/contact. Check out our full Music Playlist library at www.dancescape.com!
Each September, December, January, and May, danceScape hosts formal OPEN HOUSES where you can bring your First music ideas and we can help you to identify the Dance Style! You, your parents and Bridal party can also try out FREE Dance lessons in Ballroom, Salsa/Latin, West Coast Swing, danceTONE Fitness and Wedding Dance Crash Course. Enjoy complimentary refreshments, experience learning in a 3,500 s.f. Ballroom, and meet the Instructor team. Spaces are limited so register today! Call 905 633-8808, Email events@dancescape.com or register online at www.dancescape.com/openhouse.
About danceScape
danceScape's mission is to inspire people to laugh, be fit, make fun friends, and experience romance through Dance. We bring together couples and singles from cross generations to live fun, fearless, and magical lives. We teach people to gain confidence in themselves, not only on the dance floor but also in their personal and work life. Nothing makes our Team more happy than when students smile, laugh, hug, and embrace each other during their fun dance lessons and friendly social events.
danceScape was founded by Robert Tang & Beverley Cayton-Tang, 3-time Canadian & 2-time North American Ballroom Champions, as seen on Dragons' Den, Healthy Gourmet & ParticipACTION. Download our FREE Video App at www.dancescape.com/app and learn to dance online! Shall we dance?
If you are unable to attend or missed our Open House(s), you can still arrange a FREE "NEWCOMERS DROP-IN" information session on Monday Evenings from 8:00 to 9:00 p.m. RSVP today so a danceScape Ambassador can greet you as well as prepare your information package and FREE Class Pass! Register below.