danceFLOW Express – Sundays 10:20 am on Facebook Live 🗓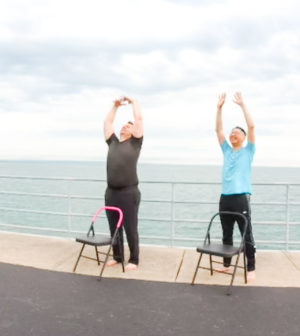 I. danceFLOW Express on Facebook Live
Join us Sundays at 10.20 am EST for Season 2 of danceFLOW Express on Facebook LIVE in the comfort of your own home! Gentle #qigong/#taichi Exercises to Inspirational #Dance Music for Stress Management, Mobility/Flexibility, Pain Relief and Mind Control. Available 24-48 hours after initial taping, you can use the exercises to reset yourself on Monday when you start your busy work week!
How can you help? Like our page to receive notices when we go live at www.facebook.com/dancescapeTV.
Support our efforts to inspire, empower and connect with others by sharing our message and online classes with your family & friends and add to Google Reviews.
Or consider joining and/or making donations to:
A. The danceScape the "Dance or Donate" Cure for Cancer Challenge. Dance or Donate was created in support of United Cancer Front's mission of finding a cure for cancer. The fundraiser supports researchers who have developed revolutionary immunotherapy treatments and targeted treatments that have already helped 3.5 million people with cancer. Whether you DANCE or DONATE, you are raising the bar and changing the outcome for friends and family challenged with cancer. You are helping us find the cure by funding cutting-edge cancer research and the development of non-toxic targeted cancer therapies!

B. The danceScape Endowment Fund (click on the "Donate Now" button, and then select "The danceScape Endowment Fund" from the drop-down list of the Burlington Community Foundation Operating Funds). Our mission is to provide, through free ballroom & latin dance-based learning programs, FUN, ROMANCE, PASSION and INSPIRATION to Seniors, Children & Adults who may be facing health or other life challenges.
---
II. danceScape @Home: Your hAPPY Place for fun Online Fitness Training & Dance Learning
We are soon launching more LIVE online classes on "danceScape @home", your hAPPy place for fun online fitness training and dance learning. If you would like a full 60 minute gentle danceFLOW workout, but unable to attend sessions at our Club/Studio, we have great news. You can work out with us in the comfort of your own home. Register below to be notified of upcoming online class schedules:
Submit an Information Request Form Below:

---
III. danceFLOW Fitness Classes at our Club/Studio
For full one hour classes in our downtown Burlington Club/Studio (2077 Pine Street) that include gentle cardio incorporating Rumba, Waltz, Cha Cha, Foxtrot and Mambo, please register at www.dancescape.com/calendar.
See our full schedule of danceTONE/danceFLOW fitness classes in downtown Burlington:
---
Scheduled
Fitness
News
Online Learning
Video