danceFLOW qigong/taichi for Chronic Pain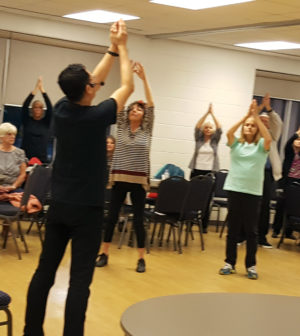 Do you or someone you know live with Chronic Pain? danceScape's Robert Tang & Beverley Cayton-Tang will present danceFLOW qigong/taichi for the Halton/Hamilton Chronic Pain Support Group on Tuesday, January 9th, 6:30 to 7:45 p.m. at the Burlington Seniors Centre.
This FREE event is sponsored by the Ontario Pain Foundation, a support group that meets monthly for people living with chronic pain. Robert & Beverley are former 3-time Canadian and 2-time North American Ballroom Champions, as seen on Dragons' Den, Healthy Gourmet & ParticipACTION's "Get Inspired. Get Moving" fitness campaign. For more information, contact Prof. Kiran Yashpal at 905 592-1516 or Email theontariopainfoundation@gmail.com
danceFLOW QiGong/TaiChi is a gentle fusion of QiGong/Taichi martial arts-based breathing, stretching, toning, guided meditation and Ballroom/Latin dance-based exercises to inspirational music. This program is particularly suited to those who want a gentler form of fitness and exercise to achieve greater flexibility, circulation, and stress or (chronic) pain relief. Call 905 633-8808 or Email events@dancescape.com for more info.
Video App – Learn to Dance Online
danceScape Music Playlists
Shall We Dance?
danceScape Radio Podcasts
Archives
facebookLIVE Mini Tutorial – Waltz
facebookLIVE Mini Tutorial – Cha Cha
facebookLIVE Tutorial – Swing/Jive
Copyright © 1997-2014 danceScape[TM] Corporation. All rights reserved. Website developed by ROBERT TANG.