danceFLOW QiGong/TaiChi Lesson to Ease Chronic Pain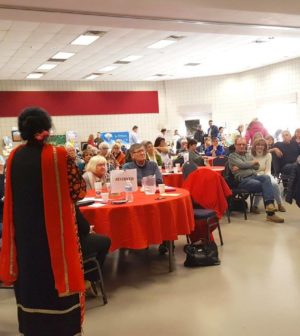 On Tuesday, October 10th from 7:00 to 7:45 p.m., danceScape will be presenting danceFLOW QiGong/TaiChi in support of the Hamilton-Halton Chronic Pain Support Group. This will be held at the Burlington Seniors Centre (2285 New Street).
This Support group for people with chronic pain meet on the second Tuesday of the month at the Seniors Centre in Burlington. There is a presentation from an expert on the topics relevant to the people with chronic pain. Interaction with the speakers is encouraged. After a coffee break some light exercises, breathing and meditation is done to end the session.
danceFLOW QiGong/TaiChi is a fusion of QiGong/Taichi with gentle breathing, stretching, toning and guided meditation exercises to inspirational #dance music (e.g., Indigenous/Ethnic, Middle Eastern, Argentine Tango, Cuban Rumba, English Waltz, Classical Ballet).
The goal is to tap into the principles of "Ying-Yang", "Taiji" & "Wuji" to breathe correctly and manage internal/external energy flows in order to achieve stress relief, relaxation, flexibility, fitness, energy balance, and healing. These same principles will then be applied through other martial arts and dance-based movements for gentle cardio and muscle toning.
It is particularly suited to those who want to experience a gentler but empowering form of fitness and exercise, as well as anyone living with Pain, Chronic Pain or other Accessibility challenges (e.g., Parkinson's, Arthritis, Paraplegia). Some portions of the class may involve seated breathing and meditation exercises.
Everyone is welcome. There is no charge.
Place: Seniors' Centre, 2285 New Street (in Central Park),Burlington
Time: 6:00 pm with danceFLOW lesson from 7:00 to 7:45 p.m.
Organizers: Dr. Kiran Yashpal & Dr. James L. Henry
danceFLOW will be presented by Robert Tang & Beverley Cayton-Tang
Tel: 905 633-8808, Email: [email protected]