danceScape on CHCH Television`s Morning Live Show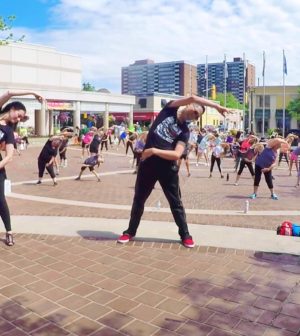 Behind-the-Scenes – Tune in to #CHCH Television on Thurs. Morning Live @chch_morninglive, 8.15 and 9.15 am (July 19th) for FUN #fitness segment #FitintheCore, Downtown Burlington, Ontario. Join TV host, Tim Bolen, as he tries out different workouts (including #danceTONE #jive/#swing #dance) with fitness professionals and studios danceScape, KineticPhysiotherapy, Beauchamp Fitness & Nutrition, 7th Wave Yoga on Brant – #inspire #empower #connect. Many thanks to France, Tim, Samantha and the crew for a fun morning! Special thanks to @tanja5647 for doing a double shift last night at work to be able to join us for some early morning dancing!
Video App – Learn to Dance Online
danceScape Music Playlists
Shall We Dance?
Archives
Copyright © 1997-2014 danceScape[TM] Corporation. All rights reserved. Website developed by ROBERT TANG.