Why Learn to Dance?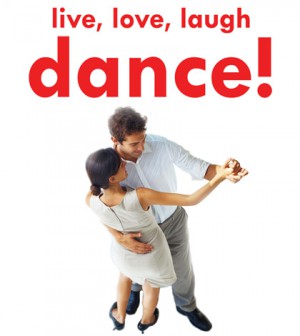 In addition to being FUN, learning to Dance has many Health & Wellness and other benefits such as:
Gain confidence to dance at Weddings, Corporate Events, Gala Fundraisers & Cruises.

Make new friends in a fun family-friendly environment (partner not necessary).

Spark or re-claim the romance and love with your special someone.

Surprise friends with your new dance skills, just like on"Dancing with the Stars".
Get started on a fun fitness activity that doesn't feel like exercise, but helps you to achieve the same health & wellness and stress-relief benefits and goals.
Prepare for your First Dance with our "Wedding Dance Crash Course" program available for the Bride & Groom, as well as Wedding Party, Father & Daughter, and Mother & Son.
Click here for more information about Dance Lessons in Ballroom, Salsa/Latin, Tango (Argentine & International Style), danceTONE (including QiGong/Tai Chi, Yoga & Zumba), Lindy Hop/Swing and Wedding Dance.
Video App – Learn to Dance Online
danceScape Music Playlists
Shall We Dance?
danceScape Radio Podcasts
Archives
facebookLIVE Mini Tutorial – Waltz
facebookLIVE Mini Tutorial – Cha Cha
facebookLIVE Tutorial – Swing/Jive
Copyright © 1997-2014 danceScape[TM] Corporation. All rights reserved. Website developed by ROBERT TANG.