Wedding Dance Crash Course with Stephanie & Chris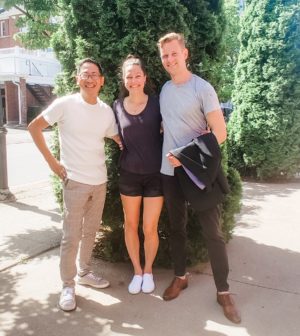 Stephanie & Chris had a short amount of time before their special day to learn a Wedding Dance. They were fans of Vance Joy and wanted to be able to move to his song, "Missing Piece". Stephanie Ice Danced when she was much younger for over 15 years. Chris, on the other hand, had never had any formal dance lessons and thought he had two left feet. They didn't want anything overly choreographed, but also didn't want to only move "side to side".
During their first lesson, it became clear that Chris was very natural, and with danceScape's Wedding Dance Crash Course System, they were able to quickly learn all the basics of Lead & Follow, along with tips on using Merengue & Bachata dance steps to be able to improvise with the musical phrasings of this fun song. They practised in between lessons and gained quick mastery of leading, following… dancing! We are looking forward to seeing photos and videos from their Wedding Day!
About danceScape
Escape to danceScape for adventures in #dance + #fitness. We are a fun Social Dance Club/Studio serving the Social Dance and Fitness community — Ballroom, Salsa/Latin, Wedding Dance, danceTONE Cardio and danceFLOW qigong/taichi. Our mission is to inspire the world to move to music, one dance step at a time. In-Studio Group Classes/Private Lessons in Downtown Burlington, with Satellite Location for Semi-Private & Private Lessons in Stoney Creek/Hamilton on the Lakeside. PLUS Online Anywhere, Anytime!