Emotional Wedding Dance with Krista & Dave – Watch as Family/Guests Spontaneously Sing to Taylor Swift's "Lover"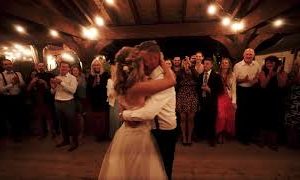 Krista and Dave did an awesome Wedding Dance Waltz to a live acoustic cover of Lover by Taylor Swift. Their Wedding was held in woodland setting in Prince Edward County which added to the magical quality of their special day. As their First Dance unfolds, watch how family & friends begin to sing spontaneously. Congratulations to this wonderful couple!
Wedding Dance @danceScape Adventures in #dance + #fitness. Live acoustic singing of Lover by Jeff Biggar.