Jourdan & Greg's Surprise Wedding Dance. Listen to Screams from Unsuspecting Family & Friends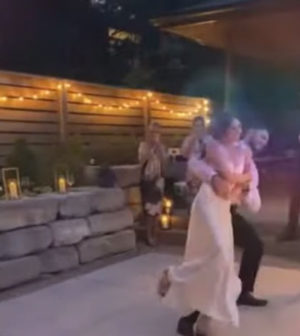 Covid Restrictions did not stop Jourdan & Greg from taking Wedding Dance Lessons. Earlier this year, Jourdan's friend sent her a dance video of her sister and brother-in-law, Maryn & Matt (featured on danceScape's youtube channel).
With a combination of "In-Studio" (danceScape in Downtown Burlington) and "Online/Virtual" (from their home in Waterloo), they learned to foxtrot to "Makin' Me Look Good Again" by Drake White in a few short weeks, complete with twirls, dips and lifts! They surprised even themselves as they met each choreography challenge put to them by instructor, Beverley Cayton-Tang.
But wait until you hear the reactions from Family & Friends… Watch Video Now…
Greg (Nyhof) is a fitness instructor with his own company. Check out his Remote Coaching as well as "In-Gym" programs at The 1440.
About danceScape
Escape to danceScape for adventures in #dance + #fitness. We are a fun Social Dance Club/Studio serving the Social Dance and Fitness community — Ballroom, Salsa/Latin, Wedding Dance, danceTONE Cardio and danceFLOW qigong/taichi. Our mission is to inspire the world to move to music, one dance step at a time. In-Studio Group Classes/Private Lessons in Downtown Burlington, with Satellite Location for Semi-Private & Private Lessons in Stoney Creek/Hamilton on the Lakeside. PLUS Online Anywhere, Anytime!