Wedding Dance Lessons @danceScape – Jesse & Charles Learn to Viennese Waltz to "At Last" by Etta James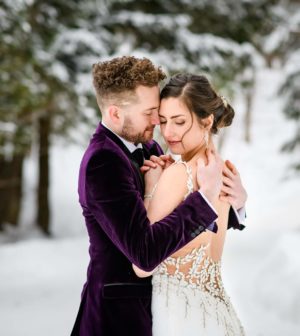 At danceScape, every Dance tells a Story. Congratulations to Jesse & Charles who were married at the Trillium Resort & Spa in Muskoka on February 15th (Valentine's Week)!
This talented couple wanted to be challenged for their Wedding First Dance and in a short amount of time, learned to Waltz/Viennese Waltz to "At Last" by Etta James. They had initially taken danceScape's group Salsa program (as a gift from Jesse's parents, whose mom danced Ballroom as a young adult. In fact, Jesse's mom, Sandy, passed her Ballroom Dance Shoes onto Jesse as "something borrowed".) and then joined the group Ballroom program. Closer to the time of their Wedding, they were then were fast-tracked in danceScape's Wedding Dance Crash Course to tailor steps to their First Dance song.
For their final lesson, they rehearsed to an audience of students from our current Absolute Beginners Ballroom class and inspired other new Wedding couples! They danced like "Nobody's watching" to applause!
Not only have they been dedicated and disciplined in their lessons and practices, but they are also accomplished young professionals with Charles as an Assistant Professor in Chemical Engineering at McMaster University and Jesse as a Corporate Lawyer at Kastner Lan LLP.
And they share our core values in giving back to the community – with Charles helping to study the impact of problems with water in First Nations communities, and Jesse volunteering in her spare time with Pro Bono Law Ontario and the YWCA to provide free legal help to persons who cannot afford a lawyer.
About danceScape
Escape to danceScape for adventures in #dance + #fitness. We are a fun Social Dance Club/Studio serving the Social Dance and Fitness community — Ballroom, Salsa/Latin, Wedding Dance, danceTONE Cardio and danceFLOW qigong/taichi. Our mission is to inspire the world to move to music, one dance step at a time. In-Studio Group Classes/Private Lessons in Downtown Burlington, with Satellite Location for Semi-Private & Private Lessons in Stoney Creek/Hamilton on the Lakeside. PLUS Online Anywhere, Anytime!