Wedding Dance Lessons @danceScape with Landy & Dad Johan – Salsa to the "Click Song"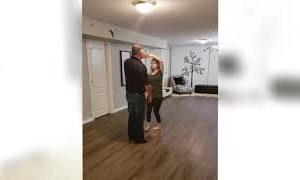 Congratulations to Landy and her dad, Johan, for learning to Salsa to the "Click Song" by Miriam Makeba. As the family is originally from South Africa, they wanted to do an authentic South African song that is traditionally sung at Weddings for the bride. Mom Elsabe had taken danceTONE fitness many years ago, as well as had Beverley & Robert teach at Landy & Greg's fun Bridal shower! The Wedding took place at the Kortright Centre for Conservation in Woodbridge. Contact danceScape at 905 633-8808 or Email [email protected] for Wedding Dance Lessons. #shallwedance?
Click here for more information about danceScape's Wedding Dance Crash Course Program.