Wedding Dance Lessons @dancescape – Lisa & Tyler Rumba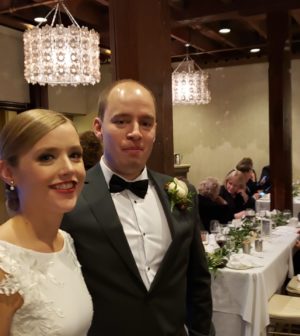 At danceScape, every Dance tells a Story… Congratulations to Lisa & Tyler on their Wedding at the Ancaster Mill. They learned to Rumba to "Lucky Ones" by Lana del Ray. Tyler was so focused and even held of drinking at dinner time. They nailed their surprise lift – with "oohs", "aahs" and Cheers from Family and Friends. Tyler celebrated by drinking the rest of the night! Lisa & Tyler had no previous dance experience but went immediately into Ballroom Open Variations group class as the Rumba was the feature dance. They were able to incorporate steps from the class, and then tailored with dips and the surprise lift!
So honoured to have been invited to their Reception to see their dancing. Lisa is John & Dita's third and youngest daughter whom we were able to help with their First Dance. Hugs to all!
Click here for more information about danceScape's Wedding Dance Crash Course Program.