Wedding Dance @danceScape – Krista & Dave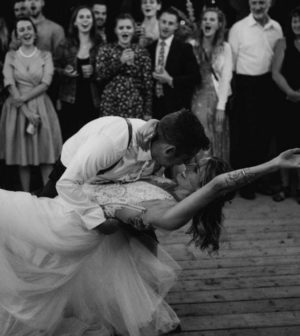 Wedding Dance @danceScape – Congratulations to Krista & Dave on their recent Wedding at the Wilderness Camp in Prince Edward County. They danced a Waltz to an acoustic version of Taylor Swifts "Lover". Memories of final lesson and tips before their special day!
About danceScape
Escape to danceScape for adventures in #dance + #fitness. We are a fun Social Dance Club/Studio serving the Social Dance and Fitness community — Ballroom, Salsa/Latin, Wedding Dance, danceTONE Cardio and danceFLOW qigong/taichi. Our mission is to inspire the world to move to music, one dance step at a time. In-Studio Group Classes/Private Lessons in Downtown Burlington, with Satellite Location for Semi-Private & Private Lessons in Stoney Creek/Hamilton on the Lakeside. PLUS Online Anywhere, Anytime!
danceScape – Adventures in #dance + #fitness. #Ballroom, #Salsa, #danceTONE cardio, #danceFLOW#qigong/#taichi, #Weddingdance. Private & Group Lessons. #shallwedance?