Surprise Salsa Lesson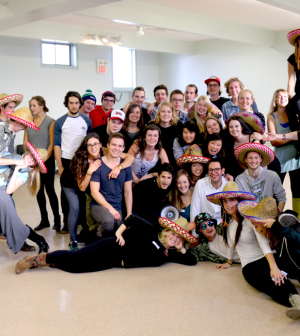 Emilio & Sarah organized a fun "SURPRISE" Salsa lesson with danceScape for their group from the University of Guelph, Faculty of Landscape Architecture.  This was the first time Robert & Beverley has taught with a megaphone! For more information about having danceScape teach at your event, email events@dancescape.com.
danceScape was founded by Robert Tang & Beverley Cayton-Tang, 3-time Canadian and 2-time North American Amateur Ballroom Champions, as seen on Dragons' Den, ParticipACTION, and Healthy Gourmet.
Video App – Learn to Dance Online
danceScape Music Playlists
Shall We Dance?
danceScape Radio Podcasts
Archives
facebookLIVE Mini Tutorial – Waltz
facebookLIVE Mini Tutorial – Cha Cha
facebookLIVE Tutorial – Swing/Jive
Copyright © 1997-2014 danceScape[TM] Corporation. All rights reserved. Website developed by ROBERT TANG.