danceScape T-Shirts Available Now for Pickup!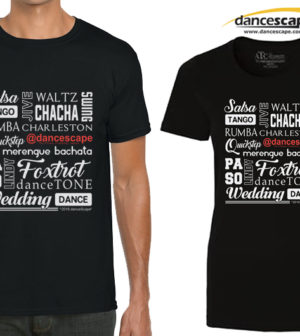 Inspired by Salsa? Tango? Jive? Waltz? ChaCha? Swing? Rumba? Charleston? Quickstep? Merengue? Bachata? Paso? Lindy? Foxtrot? danceTONE? Your Wedding Dance?
Share your passion for dancing with @danceScape's premium 2-colour T-Shirts. Shall we dance?
Hurry, Order Now for Pick-up at danceScape (2077 Pine Street, downtown Burlington). Expedited shipping is up to additional an $20 within Canada (contact us for exact pricing to your address by emailing
support@dancescape.com
or call (905) 633-8808.
HOLIDAY PROMOTIONS
Order NOW! Xmas Promo is $24.97* (Reg. $29) plus hst
*Use Promo Code: inspire when checking out! Click here to order…
@danceScape FACEBOOK SHOP


More Products at www.facebook.com/dancescapeTV/shop
Video App – Learn to Dance Online
danceScape Music Playlists
Shall We Dance?
danceScape Radio Podcasts
Archives
facebookLIVE Mini Tutorial – Waltz
facebookLIVE Mini Tutorial – Cha Cha
facebookLIVE Tutorial – Swing/Jive
Copyright © 1997-2014 danceScape[TM] Corporation. All rights reserved. Website developed by ROBERT TANG.