Taking Business Savvy to the Ballroom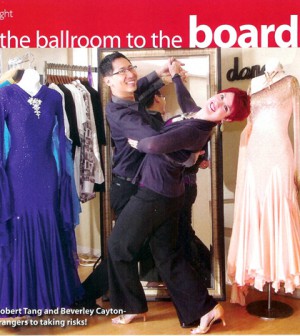 Diane Peters
Metro News "Odd Jobs"
Most parents want their kids to grow up to join a respectable, well-paying profession. But Robert Tang was already on a successful career path, having got his MBA, when his parents sidetracked him with ballroom dancing.
The Tangs entered their first ballroom dancing competition when Robert was 25. They'd always danced for fun with friends, and his father had done lessons back in Malaysia many years before.
Tang was impressed with the event: The dancing looked fun, he liked the music and his parents made the finals. Plus, he met a dancer named Beverley that day who was looking gorgeous in a turquoise ball gown.
A few weeks later, the Tangs' dance teacher asked if Robert wanted to dance. A young dancer at the studio needed a partner her own age.
Those first few weeks were difficult. Tang struggled to master and remember the steps and keep up with his partner.
But just seven weeks later, Tang and partner Tracey did their first competition and actually did better than Tang's parents.
The pair moved quickly up the amateur ranks. Then Tang's teacher arranged a most appealing switch: Tracey went pro with a male dancer while Tang took a new partner. That was Beverley, whom he'd met before.
Tang and his new partner began dating and married three years later, in 1993. But life was busy. Tang had a demanding job with a software company and travelled frequently to the United States. Meanwhile, the couple flew as far away as Europe for training and all over Canada for competitions.
Their hard work paid off: they won the Canadian amateur championship three times and the North American championship twice.
After a decade of dancing in their spare time, the couple decided to make it a full time job. With the help of an investor, they started the studio DanceScape in 2000.
In the early years, Tang taught from noon until 10 p.m. Classes are one hour with either a group of up to 40 students, or one-on-one lessons.
He helps his students set goals, and then shows them both the dance steps, and more subtle things like how to lead and read a partner's signals. Later, he began teaching instructors too: How to identify learning styles, see ballroom from both the male and female roles and learn the business side.
These days, Tang spends more time in the office planning new programs for the studio and marketing and promoting it. He just teaches private lessons and a beginner class along with his wife.
The couple now just dance at community events, but always set high goals for themselves for those showcases. "We can't get it out of our systems to be the best."
Diane Peters once hawked magic pens at the Canadian National Exhibition. She's now a writer and part-time journalism instructor.