danceScape at Sound of Music Festival TD Main Stage. Then Swingin' & Dancing to Matt Dusk… 🗓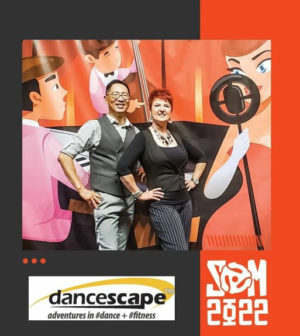 So wonderful that the Sound of Music Festival featured Big Band, Ballroom & Latin Jazz Music and invited danceScape to inspire attendees at TD Main Stage to #Foxtrot, #Swing/#Jive and #Mambo.
danceScape presented a showcase of performances by some of Canada's talented youth & young adult Ballroom & Latin dancers on the TD Main Stage on Friday, June 17th, 2:30 pm. Other students, alumni and fans of the Matt Dusk Big Band joined in fun Jive/Swing and Mambo Dance lessons and then helped inspire others to dance to Big Band, Ballroom & Latin Jazz music!
Attendees then danced to the LIVE Music of the multi-platinum award winning Matt Dusk Big Band at 3:45 pm, singing all the classic Frank Sinatra favourites! #shallwedance?
This feature dance presentation & lessons by the lakeside will be hosted by Robert Tang & Beverley Cayton-Tang, 3-time Canadian and 2-time North American Ballroom Champions, as seen on the Marilyn Denis Show, Dragons Den, and CHCH Morning Live.
Thanks so much to Myles Rusak, Sound of Music CEO, for this wonderful invitation. Check out his awesome "behind-the-scenes" facebook live broadcasts about the festival. #som2022 #livemusic #festival #local #burlon
---
danceScape participated at the Sound of Music Festival's "Burlington Downtown Street Fest", when the event series first began in 2006 and continuing until 2016. We are delighted to be part of the "Silver Series" on the TD Main stage by the lakeside in 2022. #shallwedance?
Scheduled
Events
eZine (local)
Feature
Social Programs
Video