Salsa Dance Crash Course @danceScape with Caitlyn & her Uncle for Quinceañera!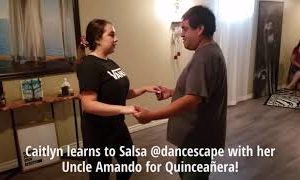 Congratulations to Caitlyn on her Quinceañera! (For those who may not know, this is a Hispanic tradition of celebrating a young girl's coming of age – her 15th birthday. This special event integrates religious customs, family virtues and social responsibility.) It was so wonderful to see her confidence magnify as she learned to #Salsa with her uncle Amando to be able to show off her moves to family and guests! – #shine with #RobertBeverley @dancescape
Video App – Learn to Dance Online
danceScape Music Playlists
Shall We Dance?
Archives
Copyright © 1997-2014 danceScape[TM] Corporation. All rights reserved. Website developed by ROBERT TANG.