Salsa Dance Crash Course @danceScape with Caitlyn & her Uncle for Quinceañera!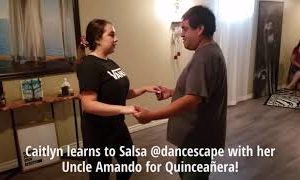 Congratulations to Caitlyn on her Quinceañera! (For those who may not know, this is a Hispanic tradition of celebrating a young girl's coming of age – her 15th birthday. This special event integrates religious customs, family virtues and social responsibility.) It was so wonderful to see her confidence magnify as she learned to #Salsa with her uncle Amando to be able to show off her moves to family and guests! – #shine with #RobertBeverley @dancescape
LIVE Online Dance Classes
danceScape at Home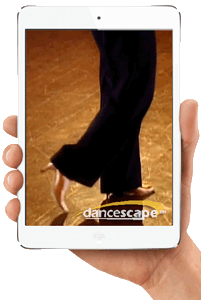 Your Virtual Classroom for Remote Online Ballroom & Salsa Dance Learning and danceTONE/danceFLOW Fitness Training, with access to select live webinars, pay-per-view for others, and access to a library of unlimited class videos & tutorials.

MONTHLY Fitness Only
Video App & Live Classes
$34.97/mo
All Access Fitness
ANNUAL Fitness Only
Video App & Live Classes
$24.97/mo
All Access Fitness ($299.64 billed annually)
MONTHLY Dance Only
Video App, Live Classes with BONUS Online Private Lesson every 5 months
$97/mo (Reg. $125.35/mo)
All Access Ballroom & Salsa
ANNUAL Dance Only
VIdeo App, Live Classes with BONUS Online Private Lesson every 3 months
$83.09/mo (Reg. $109/mo)
All Access Ballroom & Salsa ($997 billed annually; (Reg. $1308 billed annually, plus additional a la carte fees for Private Lessons))
Archives
danceScape Music Playlists
facebook live