Salsa Dance Lessons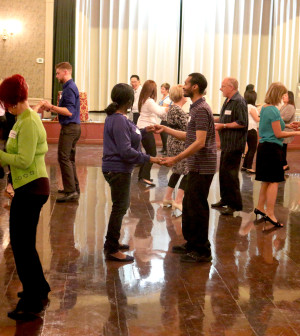 Salsa Dance Group Lessons are offered at danceScape for Absolute Beginners (Tuesdays at 8:30 p.m.) and Level 1 (Mondays at 9:00 p.m.) in Burlington and Beginners Open (Fridays at 8:30 p.m.) in Milton.
Salsa is a fun dance that is popular at many Latin Clubs, and has its roots in Cuba but incorporates many influences from other countries, such as the Dominican Republic, Colombia, and Puerto Rico. Bonus Merengue and Cha Cha lessons are added in some sessions from term to term as these musical rhythms also tend to be played at Salsa clubs. In additionn to Group lessons, Private lessons are also available. Call 905 633-8808 or Email events@dancescape.com for more information.
Video App – Learn to Dance Online
danceScape Music Playlists
Shall We Dance?
danceScape Radio Podcasts
Archives
facebookLIVE Mini Tutorial – Waltz
facebookLIVE Mini Tutorial – Cha Cha
facebookLIVE Tutorial – Swing/Jive
Copyright © 1997-2014 danceScape[TM] Corporation. All rights reserved. Website developed by ROBERT TANG.