Salsa Dance Lessons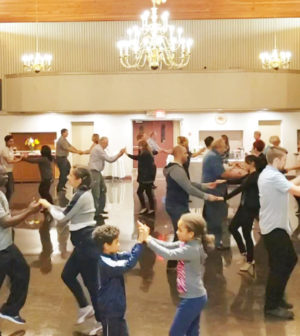 For couples (or singles) who want to:
Gain Confidence at Social Events (e.g., Salsa Club, Latin-themed Party, Wedding)
Have Fun Dancing on a Cruise or Destination Vacation/Resort in a Latin American Country or City, such as Cuba, Miami, South America, Dominican Republic, Spain, Portugal
Be Inspired by Latin or Top 40 "Club/Party" Music, especially from artists like Pit Pull, Jennifer Lopez, Gloria Estefan, R. Mancuso, J. Balvin, Cardi B., Tito Puente and others.
Prepare a special "First Dance" at a Wedding with Latin or Eclectic "Indy" Music
Make Time for "Date/Friendship Night" with your Special Someone or with Family and Friends.
Salsa is a fun dance that is popular at many Latin Clubs, and has its roots in Cuba but incorporates many influences from other countries, such as the Dominican Republic, Colombia, and Puerto Rico. Bonus Merengue and Cha Cha lessons are added in some sessions from term to term as these musical rhythms also tend to be played at Salsa clubs. In addition to Group lessons, Private lessons are also available.
danceScape Foundation Dance Styles:
"10 Week" Group Class Packages:
Absolute Beginners – 2 Dance Styles per Term (e.g., Merengue and Salsa)
Level 1 – New Step Combinations with Intermediate/Advance Dips, Spins and "Shines" (2 Dance Styles per Term, e.g., Bachata and Salsa)
Private Lesson Packages: "Couple" or "Single" student with 1 Instructor (1 hr)
1 to 3 Lessons
4-9 Lessons
10+ Lessons
Call 905 633-8808 or Email [email protected]. Or Click here for Full Calendar.