Having Parkinson's Didn't Stop Richard from Learning the ChaCha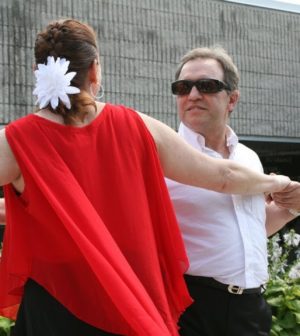 Richard J. Welland is a Ballroom Dance student at danceScape. He has dedicated nearly 35 years of his life to the speech-language pathology profession. He has worked clinically as a staff speech-language pathologist, speech-language pathology manager, and private practitioner, and continues in the latter role today. Although his clinical experience is most extensive with adults who have acquired neurologically-based speech, language, cognitive-communication, and/or swallowing disorders; he also has considerable experience working with adults who have voice disorders.
In the 1990's, Richard returned to university to earn his doctoral degree (Ph.D.) from the State University of New York at Buffalo, and in 1997 began to work at Brock University. Now, an Associate Professor, he teaches undergraduate students in Speech and Language Sciences, and in Hearing Sciences, and conducts research on typical and atypical communication associated with adult aging.