Doris & Alfred Surprise Wedding Dance Goes VIRAL on YouTube!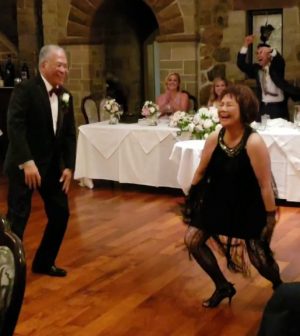 Doris & Alfred surprise their son and daughter-in-law, Nathaniel & Jessica, with a Dance at their Wedding. They were not expecting what follows – from Cha Cha to ????!
This Video is starting to go VIRAL on dancescapeTV youtube, after 3 years, hahahah! For whatever reason, there is an uptick on people commenting on their "FUSION" surprise dance. Over 396,000 views. Enjoy!
Great fun and awesome idea from their daughter/sister, Natalie, with help from danceScape instructors, Robert Tang & Beverley Cayton-Tang.
About danceScape
Escape to danceScape for adventures in #dance + #fitness. We are a fun Social Dance Club/Studio serving the Social Dance and Fitness community — Ballroom, Salsa/Latin, Wedding Dance, danceTONE Cardio and danceFLOW qigong/taichi. Our mission is to inspire the world to move to music, one dance step at a time. In-Studio Group Classes/Private Lessons in Downtown Burlington, with Satellite Location for Semi-Private & Private Lessons in Stoney Creek/Hamilton on the Lakeside. PLUS Online Anywhere, Anytime!