Mother's Day #FUNWeek @danceScape – Mama (& Grandmama) Loves Mambo. And ChaCha. Don't Forget Tango!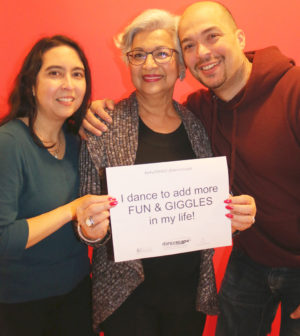 Mother's Day is just around the corner and what can be more fun than swaying and sashaying to danceScape in downtown Burlington for a FUN (and FREE) Ballroom or Salsa/Latin dance class! Mama (& Grandmama) will LOVE to Mambo. And ChaCha. And Salsa. And don't forget Tango!
The first twenty people to call 905 633-8808 or email [email protected] will get one "FREE Class Pass" for Mama (and/or Grandmama) to any of our Burlington group programs in Beginners Ballroom, Beginners Salsa, danceTONE Fitness, West Coast Swing, or lifeFLOW ChiGong/Guided Meditation!
Add to the fun and surprise by inviting them to come with you, family and friends to our Spring/May Open House(s). Choose from Monday, May 9th and/or Thursday, May 12th from 7 to 9 p.m.
Everyone will enjoy complimentary sweets, treats and other refreshments and dance lessons! Guests will also have the chance to win 2 tickets to "danceScape Big Band Ballroom Bash" on Saturday, July 23rd in Oakville. This event will feature a Lesson, Concert and Social Dance, with the LIVE Big Band music of "That Band". Register yourself, Mama, Grandmama, and guests online at www.dancescape.com/openhouse. Hurry, spaces are limited!
danceScape has been teaching students to gain confidence in themselves and to live fun, fearless and magical lives since 2001 in Burlington and 2013 in Milton — both on the dance floor and in their personal and work life. We are on a mission to Inspire, Empower & Connect students, their family and friends from across generations to laugh, be fit, make fun friends, and experience romance through Dance. Nothing makes us more happy than when students smile, laugh, hug, and embrace each other during our fun dance lessons and friendly social events.
danceScape was founded by Robert Tang & Beverley Cayton-Tang, former 3-time Canadian and 2-time North American Ballroom Champions, as seen on Dragons' Den, Healthy Gourmet, and ParticiPACTION's "Get Inspired. Get Moving" fitness campaign.
Shall we dance?