Mother-Son Wedding Dance Lessons @danceScape – Cynthia & Matthew Foxtrot/Jive to "I Wanna Dance"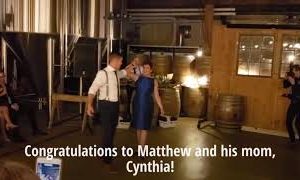 Such a delight to see mom Cynthia dancing a Foxtrot/Jive mashup with son Matthew for his Wedding. There were lots of challenging tricky moves and they kept pushing themselves forward to learn and excel. But Cynthia is used to problem solving and overcoming challenges – especially as consultant in Procurement & Supply Chain Management & Advisory services in Healthcare, University, Hospitality and Utilities.
More importantly that she made Mother & Son time together with Matthew, which resulted in cheers from all their family and friends at the Wedding as they danced to "I Wanna Dance with Somebody" by Whitney Houston. Awesome and fun dancing, a joy to watch! #shallwedance @danceScape?
About danceScape
Escape to danceScape for adventures in #dance + #fitness. We are a fun Social Dance Club/Studio serving the Social Dance and Fitness community — Ballroom, Salsa/Latin, Wedding Dance, danceTONE Cardio and danceFLOW qigong/taichi. Our mission is to inspire the world to move to music, one dance step at a time. In-Studio Group Classes/Private Lessons in Downtown Burlington, with Satellite Location for Semi-Private & Private Lessons in Stoney Creek/Hamilton on the Lakeside. PLUS Online Anywhere, Anytime!
Click here for more information about danceScape's Wedding Dance Crash Course Program.