Milton Concert Band presents Fiesta, featuring danceScape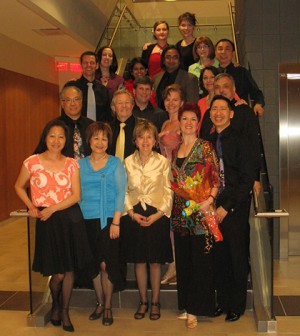 Inside Halton
Milton Canadian Champion
Milton Concert Band to present Fiesta at the Milton Centre for the Arts, featuring danceScape.
Fiesta!, featuring exciting rhythms found in traditional and popular Latin music, will be on stage at the Milton Centre for the Arts on Saturday.
The Milton Concert Band (MCB) will present the concert in the Mattamy Theatre at 8 p.m. Dancers from danceScape will be featured along with Robert Tang and Beverley Cayton-Tang, three-time Canadian and two-time North American amateur ballroom dance champions, who will perform a tango.
The concert will feature music ranging from Ravel's Bolero to a medley, which includes Ricky Martin's Cup of Life. Acting Music Director Sheena Nykolaiszyn had a great deal of music to choose from for this concert.
"When you stop and think about it, Latin music covers a lot of territory both geographically and musically," said Nykolaiszyn. "This program contains tangos from Argentina, Latino-Caribbean rhythms like meringue, samba and bossa nova from Brazil and even a medley from San Francisco-based rock legends, Santana.
The MCB has enjoyed a long-standing relationship with danceScape, a Milton ballroom dance studio.
"Our students are looking forward to showcasing some of the ballroom dances that they have learned this term. There is nothing more inspiring than dancing to live music," said Cayton-Tang, one of the teachers.
Tickets, which cost $18 for adults and $16 for seniors/students, or $5 as part of eyeGo, are available through Chudleigh's Box Office by visiting www.miltoncentreforthearts.ca or by calling (905) 878-6000.