Millenial Network Group – Shall We Dance?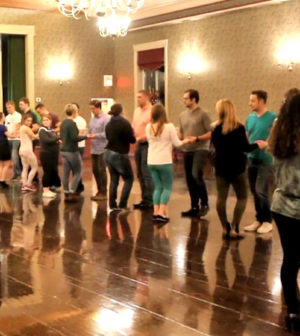 Ready, Set, Dance! danceScape hosted the Millenial Network Group on Tuesday, Nov. 7th at 9.30 pm with a fun Salsa/Latin dance lesson and social (2077 Pine Street, downtown Burlington)! Millenials (ages 18-34) from Burlington, Oakville-Milton, Hamilton, St. Catherines, Brantford, Kitchener-Waterloo and London are invited to attend and find out more about this community-minded, entrepreneurial and fun networking group, and who share danceScape's core values of fun and inspiration. Admission was any donation to danceScape's Christmas Food Drive for Hamilton Food Share. #shallwedance?
If you get hooked on dancing, danceScape will be holding an Open House on the 4th of December from 7-9 p.m., featuring Ballroom, Salsa/Latin, Swing/Jive, danceTONE fitness and danceFLOW qigong/taichi. All the details of that will be available at our event! #shallwedance
Video App – Learn to Dance Online
danceScape Music Playlists
Shall We Dance?
danceScape Radio Podcasts
Archives
facebookLIVE Mini Tutorial – Waltz
facebookLIVE Mini Tutorial – Cha Cha
facebookLIVE Tutorial – Swing/Jive
Copyright © 1997-2014 danceScape[TM] Corporation. All rights reserved. Website developed by ROBERT TANG.