Re-Energize Your Body, Mind & Spirit Through lifeFLOW Chi (Qi) Gong & danceTONE Fitness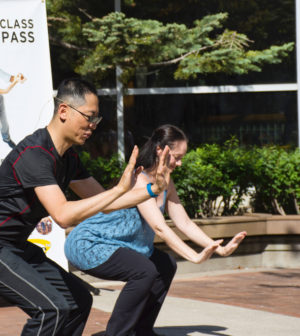 Traditional forms of exercise such as weight training, pilates, and yoga provide a disciplined, but more solitary experience to achieve health and wellness.  While fine for the fitness fanatic, those seeking more variety in their daily workout routine now have a fun alternative through dancing.
danceScape's lifeFLOW ChiGong (fun fusion of Mindful Meditation and Movement to Ballroom, Latin & World Music" with traditional Chi (Qi) Gong exercises and dancing for Stress, Healing and Energy Management) and danceTONE Fitness (medium cardio trim & tone program) are dance- or movement- based programs that incorporates World, Ballroom, and Latin music.
States Program Director, Robert Tang, himself a three-time Canadian and two-time North American Amateur Ballroom Champion, "Fitness clubs can be intimidating with rows of perfectly chiselled bodies working out on machines. Our goal was to create a fun relaxed environment in which participants can re-energize their body, mind and soul through the communal experience."
Here are the top ten reasons why dancing and dance-based fitness programs can help you stay healthy and young:
Dancing increases lung capacity, which benefits the cardiovascular system.
Dancing strengthens the stabilizer muscles, which helps to co-ordinate reflexes.
Dancing burns anywhere from 5 to 10 calories per minute.
Dancing aids in the prevention and treatment of osteoporosis.
Dancing raises HDL (good cholesterol), and lowers LDL (bad cholesterol).
Dancing keeps the mind quick and alert, as well as helps to improve the memory through the recalling of routines and step patterns.
Dancing elevates our mood by raising endorphin levels, and thereby enabling us to cope better with stress and depression.
Dancing helps establish self-confidence and self-discipline.
Dancing provides opportunities to meet new people and make new friends.
Dancing improves the harmony between our mind and body, giving us a sense of well-being.
For more information about the health and wellness benefits of Dancing or danceTONE, visit www.dancescape.com/calendar.