SkyhiClub Outing: Knot A Breast Winter Concert 2014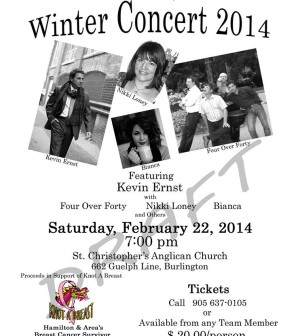 danceScape has launched a new Social Club called the SKYHI CLUB! Join us for our next Social Outing on Saturday, February 22nd to Knot A Breast's Winter Concert 2014. This is a fundraising concert in support of Knot A Breast, Hamilton & Area's Breast Cancer Survivor Dragonboat Team. Through dragon-boat racing, our floating support group sends a message of hope to people living with breast cancer and to those who support them. All ages and physical abilities can and do participate. The Concert will feature singer Kevin Ernst with Four Over Forty (Men's A Capella Group), Nikki Loney, Bianca, and others.
Starting with a very small group of survivors, Knot A Breast was formed in April of 1998. The team made its first splash at Hamilton's Macassa Bay Yacht Club that spring and has not looked back! Its membership is now comprised of over 70 members from Hamilton and surrounding area. They began as strangers with only one link…breast cancer, and we have all grown stronger as individuals and as a team.
Knot A Breast – Winter Concert 2014
St. Christopher's Anglican Church
662 Guelph Line, Burlington
Tickets are $20.00 per person
Call (905) 633-8808 if you would like to be part of danceScape's new club. The Skyhi Club is community fun individuals, associations, and businesses who love to laugh and are passionate about inspiring each other to live life beyond the now. It's more than a place to create a bucket list. It's a way of imagining and experiencing life as if the sky were not the limit. Stay tuned as we prepare for more fun social adventures!