Hamilton Salsa Night @ J. Anthony Grille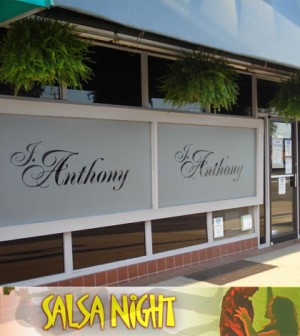 Join Guest Instructors, Will & Xenobia of 2Dance4Ever, who will be teaching a fun Salsa lesson on Friday, July 19th at J. Anthony Grille & Catering, located at 291 Queenston Rd, Hamilton, ON , L8K 1H2
At this Friday's SALSA NIGHT, enjoy a catered buffet (price includes a complimentary Margarita) from Chef Anthony, participate in a Salsa Dance Lesson with Will & Xenobia, and listen or dance to DJ'd Salsa Music! For inquires and reservations, please call 289-389-1501 as seating and space is limited!
danceScape's Robert Tang & Beverley Cayton-Tang recently visited J. Anthony Grille & Catering at their Sunday Brunch and it was delicious!  The staff were friendly and Anthony & his team of chefs paid so much attention to food quality.  Click here to read this wonderful Restaurant Review from Food Critic, Dan Kislenco, from the Spectator.
Video App – Learn to Dance Online
danceScape Music Playlists
Shall We Dance?
danceScape Radio Podcasts
Archives
facebookLIVE Mini Tutorial – Waltz
facebookLIVE Mini Tutorial – Cha Cha
facebookLIVE Tutorial – Swing/Jive
Copyright © 1997-2014 danceScape[TM] Corporation. All rights reserved. Website developed by ROBERT TANG.