danceScape at "Good Living Show" (Art Gallery of Burlington)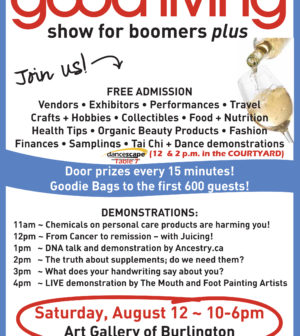 danceScape was at the "Good Living Show" on Saturday, August 12th (Table 7, Rotary Hall, Art Gallery of Burlington (AGB), 1333 Lakeshore Rd.). The Good Living Show celebrated "living a great life" with our 'Boomers Plus' friends. With awesome vendors, exhibitors, demonstrations, performances, crafts, travel, fashion, money + budgeting, home renovation, food & wine, nutrition, health tips, hobbies, retirement abroad, tons of info and more to see and do.
danceScape Demonstrations (12 and 2:00 p.m. at the AGB COURTYARD)
danceScape showcased students who are living with Accessibility Challenges (e.g., Blindness, Parkinson's, Chronic Pain) but have found inspiration, transformation and empowerment through learning to Dance. There will also be a mini-lesson of danceFLOW QiGong/TaiChi fitness program, which is a fusion of QiGong/Taichi with gentle breathing, stretching, toning and guided meditation exercises to inspirational #dance music (e.g., Indigenous/Ethnic, Middle Eastern, Argentine Tango, Cuban Rumba, English Waltz, Classical Ballet). This program is particularly suited to those who want to experience a gentler but empowering form of fitness and exercise, as well as anyone living with Pain, Chronic Pain or other Accessibility challenges (e.g., Parkinson's, Arthritis, Paraplegia). Some portions of the class may involve seated breathing and meditation exercises.
Other Demonstrations at the Good Living Show included juicing + food demos, staying fit, natural / health / illness prevention / gluten-free info, downsizing, cooking tips + tricks, money talks and advice… Check the Silver & Gold website for demo updates + free space booking. Goodie bags to the first 500 guests, door prizes, refreshments and oh so much more!
Special USEFUL gift bag to the first 50 guests! Fully accessible and plenty of parking.
danceScape at the Good Living Show (Table 7, Rotary Hall)
danceScape Demonstrations (12:00 and 2:00 p.m. at the Art Gallery of Burlington COURTYARD)
Free demonstrations all day, include:
10am – Doors Open, FREE Goodie Bags to the first 600 guests!
Get your ticket for DOOR PRIZES every 15 minutes!
Music performances and welcome displays.
11 a.m. – "Chemicals on Personal Care Products are Harming You!"
Presentation by Cettina, Arbonne Cosmetics Independent Rep.
12 p.m. – "From Cancer to Remission… With Juicing!"
Naiomi from Burlington's Bodhi Bar shares her personal (amazing!) story, and demonstrates how amazing juicing really is (free tasting).
1 p.m. – Ancestry.ca DNA demonstration: "Why have your DNA tested?"
Visit the "Sit & Spit" demonstration table and have yours done! (Psst: Makes a great gift too!)
SHOW SPECIAL: $99 all included – taxes and no shipping necessary!
2 p.m. – "The Truth About Supplements: Do we really need them?"
Presentation by Dr. Sara Celik, Naturopathic Doctor and Speaker. Join us and learn about supplements and your body's way of handling them. Receive samples, bring your questions!
3 p.m. – "What Does Your Handwriting Say About You?"
Mary Ann Matthews is a professional graphologist. If you've never seen how amazing this form of handwriting study is, now's your chance!
Talk and demonstration. Have your handwriting analyzed for a special discounted fee!
4 p.m. – "Self-Help, Not Charity"
DEMONSTRATION by the Mouth and Foot Painting Artists: an international, for-profit association wholly owned and controlled by disabled artists, to help them meet their financial needs.
In the COURTYARD:
11am and 3pm: Tai Chi demonstrations by Burlington Taoist Tai Chi (FLK) plus fortune cookie giveaway
12pm and 2pm:
Dance demonstrations by Burlington's very own danceScape! Watch dancers with various ages, styles, physical challenges, have LOTS OF FUN!
Saturday, August 12th, 10 a.m. to 6 p.m.
Art Gallery of Burlington
1333 Lakeshore Rd, Burlington, ON L7S 1A9
RSVP: 905 633-8808, [email protected] or register with danceScape online!