Free Class Pass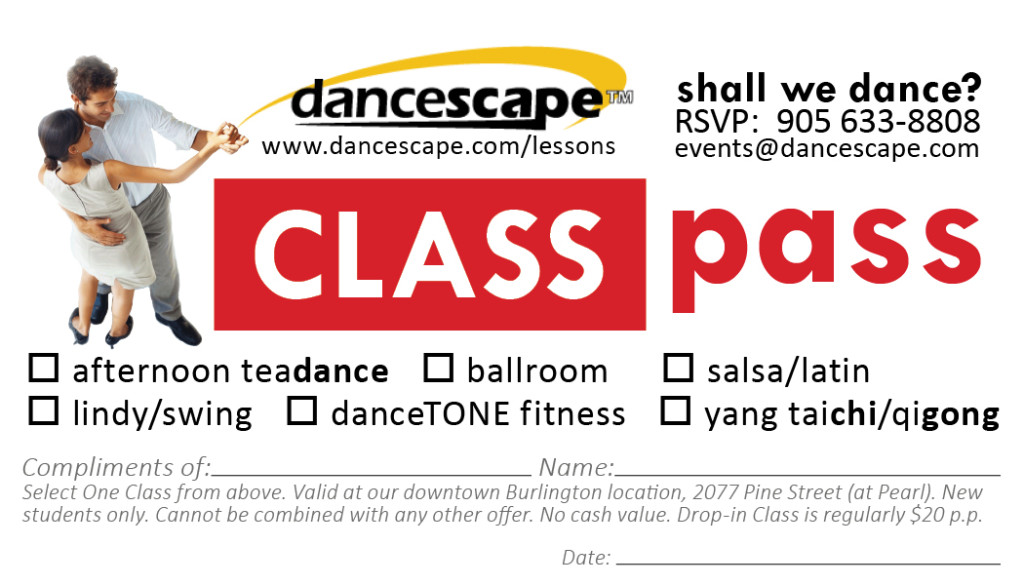 danceScape's FREE Class Pass is compliments of our Business Partners and Recommended Companies!  Please submit the following information to receive your pass:
Head Office:
danceScape
2077 Pine Street
Downtown Burlington, Ontario
L7R 1G1 Canada

Tel: +1 (905) 633-8808
E-mail: events@dancescape.com

Customer Live Support Hours:
Monday to Wednesday:  12:00 to 6:00 p.m.
Thursday: 12:00 p.m. to 5:00 p.m.

Directions:
Downtown Burlington Parking
Video App – Learn to Dance Online
danceScape Music Playlists
Shall We Dance?
danceScape Radio Podcasts
Archives
facebookLIVE Mini Tutorial – Waltz
facebookLIVE Mini Tutorial – Cha Cha
facebookLIVE Tutorial – Swing/Jive
Copyright © 1997-2014 danceScape[TM] Corporation. All rights reserved. Website developed by ROBERT TANG.