Father-Daughter Wedding Dance Lessons @danceScape – Greg & Maryn Foxtrot to "How Sweet it is"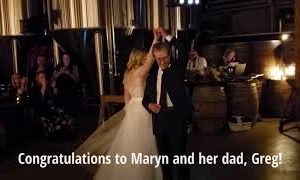 Dad, Greg, has never taken formal dance lessons before and initially felt out of his comfort zone. As a Corporate and Commercial Lawyer with his own law firm, Hanmer Law, he confidently represents clients in important cases in Business and Estate Planning. But "Dancing" was different. As this was going to be a special life celebration, he gathered courage and decided to take a Father-Daughter Wedding Dance Crash Course with his daughter, Maryn. And oh, how graceful they both looked on the day of the Wedding, dancing to "How Sweet it is" by James Taylor. Such an honour to see his transformation as he swirled and twirled Maryn in celebration of this special day with the love of her life, Matthew. Congratulations Greg & Maryn, so happy and proud of you both! For more information about Hanmer Law in Waterloo, visit www.hanmerlaw.com.
About danceScape
Escape to danceScape for adventures in #dance + #fitness. We are a fun Social Dance Club/Studio serving the Social Dance and Fitness community — Ballroom, Salsa/Latin, Wedding Dance, danceTONE Cardio and danceFLOW qigong/taichi. Our mission is to inspire the world to move to music, one dance step at a time. In-Studio Group Classes/Private Lessons in Downtown Burlington, with Satellite Location for Semi-Private & Private Lessons in Stoney Creek/Hamilton on the Lakeside. PLUS Online Anywhere, Anytime!
Click here for more information about danceScape's Wedding Dance Crash Course Program.