Runway to Waterway Fashion Show Gala & Fundraiser – From "Blue Jeans to Ballgowns"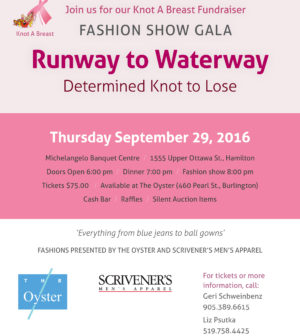 Runway to Waterway Fashion Show Gala
In Support of Knot-a-Breast Dragon Boat Team whose mission is to inspire and show women and men that they can lead full and active lives after treatment for Breast Cancer.
Guess which Dress Beverley Cayton-Tang wore to "Runway to Waterway" Knot-a-Breast Fundraiser? Congratulations to Lauren Bell for winning the 10 week danceTONE Fitness class @danceScape!
danceScape's Robert Tang & Beverley Cayton-Tang was part of the Evening Wear Fashion Show Dance Presentation at this fun event, celebrating Breast Cancer Survivors from the Knot-a-Breast Dragon Boat Team. Robert & Beverley are 3-time Canadian and 2-time North American Ballroom Champions, as seen on Dragons' Den, Healthy Gourmet & ParticipACTION's "Get Inspired. Get Moving." fitness campaign. Many thanks to Kathy Christie MacFarlane from The Oyster.
FASHION SHOW GALA: Runway to Waterway
Determined Knot to Lose
Thursday, September 29 at 6 PM – 11 PM
Michelangelo's Banquet Centre
1555 Upper Ottawa Street, Hamilton, Ontario

Presented by: The Oyster and Scrivener's Men's Apparel.
Everything from "blue jeans to ball gowns".
Doors Open 6:00 pm / Dinner 7:00 pm / Fashion show 8:00 pm
Tickets $75.00 / Available at The Oyster (460 Pearl St., Burlington)
Cash Bar /  Raffles  / Silent Auction Items
Tickets or book a Table for 8 call:
Geri 905-389 6615 or Liz Psutka 519 758 4425