facebook
danceScape @Home LIVE Online Ballroom Technique Classes

Learn the International Foxtrot and Other Dance Styles in our Virtual Classrooms

It's as if you were Standing Right Behind the Instructors while you Learn at Home.

Ask questions with Video or Text Chat Using Your Large Screen TV, Laptop, iPad/Tablet or Cell Phone.

Instructors answer you immediately and even demonstrate in multiple angles!

Your hosts and Master Coaches are Robert Tang & Beverley Cayton-Tang, 3-time Canadian and 2-time North American Ballroom Champions. 5-time World Representatives.

As seen on the Marilyn Denis Show, Dragons Den, Healthy Gourmet & ParticipACTION's "Get Inspired. Get Moving." Fitness campaign.

Join our Fun Online Dance & Fitness Social Club at www.dancescape.TV ...
danceScape was live — with Beverley Cayton-Tang and Robert Tang Beverley Cayton-Tang at danceScape.
1 day ago
danceFLOW Express (Season 2, Class 8) - Anouncements about (1) One Year of FREE danceScape.TV Online Classes to Canadian First Responders - thank you for all that you do! Register at firstresponder.dancescape.TV (2) "Escape to danceScape 21-Day Online Staycation" for Students, Alumni & their friends/family. Register at staycation.dancescape.TV — Gentle #qigong/#taichi exercises to inspirational #dance music for stress/anxiety, mobility/flexibility, pain relief, mind control. Sundays 10.20 am EST Facebook Live

--
About danceScape
danceScape (and danceScape @Home) is more than just a Social or Virtual Dance or Fitness Club/Studio. We inspire, empower and connect with others to laugh, be fit, make fun friends, and experience confidence, wellness, and romance through music and dance. We teach students to gain confidence in their personal and work life. We help them conquer their fears so they can amplify their inner strength and express their authentic voice.

About Robert & Beverley
Master Coaches and Founders, Robert Tang & Beverley Cayton-Tang, are 3-time Canadian and 2-time North American Ballroom Champions. You may have seen them on such television shows as Marilyn Dennis Show (CTV), Dragons' Den (CBC Television), Healthy Gourmet (Oprah Winfrey Network), and ParticipACTION's "Get Inspired. Get Moving." Fitness Campaign. ...
Good morning Robert and Beverley!!
Good morning, enjoyed the second half, was watching the wrong version and missed this :) Will catch you again next Sunday, if you do another mid week let me know! Thank you.
Good morning! Yes we hear you well
Good morning everyone!
Have a great day friends. Stay safe and healthy
Yes. Carol Burnett!!!!!
Great video. Thanks for the tip on gargling.
Yes, you're very clear. Sending the link to a friend for Sunday live! Love it.
Hi everyone, more and more students are indicating they are Casting to their large screen Televisions our Online Classes - not only on Facebook LIVE but especially on danceScape @Home LIVE Online Classes/Virtual Classrooms to their Televisions. So next week, we are going to experiment with 1080 recording here on Facebook. Not sure if that will slow down the feed but thought would send advance notice so can assist in testing with your AppleTV, Chromecast, Samsung Cast. Thank you!
danceScape @Home - LIVE Online danceTONE Cardio Classes — Music Driven Body danceToning. Incorportaing Proper Ballroom, Salsa/Latin, Swing/Jive and other Dance Steps. Meet other danceScapers Working Out in the Comfort & Safety of their Home.Tighten & Tone your Arms, Abs, Buns, Thighs & Calves. Get up to 4,500 Steps in 50 Minutes! Join our Fun Online Dance & Fitness Social Club at www.dancescape.TV. ...
Load more
Related Posts:
Learn to Dance at our Club/Studio
danceScape at Home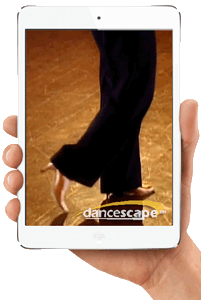 Your Virtual Classroom for Remote Online Ballroom & Salsa Dance Learning and danceTONE/danceFLOW Fitness Training, with access to select live webinars, pay-per-view for others, and access to a library of unlimited class videos & tutorials.

MONTHLY Fitness Only
Video App & Live Classes
$34.97/mo
All Access Fitness
ANNUAL Fitness Only
Video App & Live Classes
$24.97/mo
All Access Fitness ($299.64 billed annually)
MONTHLY Dance Only
Video App, Live Classes with BONUS Online Private Lesson every 5 months
$97/mo (Reg. $125.35/mo)
All Access Ballroom & Salsa
ANNUAL Dance Only
VIdeo App, Live Classes with BONUS Online Private Lesson every 3 months
$83.09/mo (Reg. $109/mo)
All Access Ballroom & Salsa ($997 billed annually; (Reg. $1308 billed annually, plus additional a la carte fees for Private Lessons))
Archives
danceScape Music Playlists
facebook live