A (Virtual) Evening at the Brant Inn (2021 Highlights) 🗓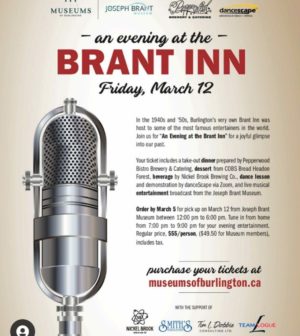 From the 1940s to '60s, Burlington's very own Brant Inn was host to some of the most famous entertainers in the world Louis Armstrong, Ella Fitzgerald, Lena Horne, Johnny Mathis, Glenn Miller, Benny Goodman, Stan Kenton and more. Join us for "An Evening at the Brant Inn" for a joyful glimpse into our past.
(Please note this event is SOLD OUT: "A (Virtual) Evening at the Brant Inn" with at Home Gourmet Dining & Learning to Dance, Friday, March 12th.)
Your ticket includes a take-out dinner prepared by Pepperwood Bistro Brewery & Catering, dessert from COBS Bread Headon Forest, a beverage by Nickel Brook Brewing Co., dance lesson and demonstration (Swing/Jive) by danceScape via Zoom, and live musical entertainment broadcast from the newly renovated Joseph Brant Museum.
Welcome 7 p.m.
Smooth Blend Quartet 7:10 p.m.
danceScape Demonstration & Lesson 7:45 p.m.
Smooth Blend Quartet 8:20 p.m.
Closing 8:50 p.m.
March 5th Deadline for Pre-Ordering and March 12th Gourmet Meal Package Pickup from the Joseph Brant Museum between 12 noon to 6 pm, then tune in from home at 7 pm for your evening entertainment. Click here for more information.
For Ticket Holders, you can now access the Official Museums of Burlington Replay Video by emailing [email protected] for your Password.
Scheduled
Social Programs