danceScape's Robert & Beverley on the #MarilynDenisShow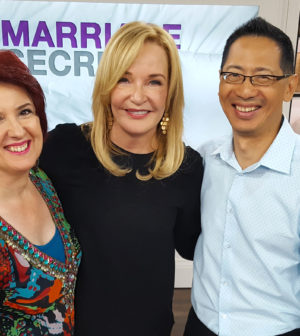 danceScape's Robert Tang Beverley Cayton-Tang will appear in an upcoming FUN episode about "Marriage Secrets" on Tuesday, September 19th on Season 8 of The Marilyn Denis Show. Robert & Beverley are former 3-time Canadian and 2-time North American Ballroom Champions, as seen on Dragons' Den (CBC Canada), Healthy Gourmet (Oprah Winfrey Network), ParticipACTION's "Get Inspired. Get Moving" fitness campaign, Canada in a Day (CTV), and "What's Your Story?" (CBC Canada). Please see link below and share…
About Robert Tang & Beverley Cayton-Tang
Robert & Beverley are former 3-time Canadian and 2-time North American Ballroom Champions, as seen on Dragons' Den, Healthy Gourmet, ParticiPACTION's "Get Inspired. Get Moving" fitness campaign and CTV's "Canada in a Day".
About danceScape
danceScape's mission is to inspire people to laugh, be fit, make fun friends, and experience romance through Dance. We teach people to gain confidence in themselves, not only on the dance floor but also in their personal and work life. We connect couples and singles from cross generations to live fun, fearless, and magical lives. Nothing makes our Team more happy than when students smile, laugh, hug, and embrace each other during their fun dance lessons and friendly social events. Our online and in-studio programs include Ballroom/Big Band, Salsa/Latin, West Coast Swing/Jive, danceTONE Fitness and danceFLOW QiGong/TaiChi.
Video App – Learn to Dance Online
danceScape Music Playlists
Shall We Dance?
danceScape Radio Podcasts
Archives
facebookLIVE Mini Tutorial – Waltz
facebookLIVE Mini Tutorial – Cha Cha
facebookLIVE Tutorial – Swing/Jive
Copyright © 1997-2014 danceScape[TM] Corporation. All rights reserved. Website developed by ROBERT TANG.