danceScape on CHCH Television's Morning Live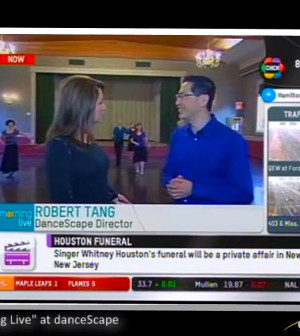 Lights, Camera, Action! Reporter Lesley Stewart from CHCH Television's "Morning Live" show dropped by danceScape on Wednesday, February 15th from 6 to 9 a.m. Viewers watched a FUN morning "danceTONE Express" workout, as well as Ballroom & Salsa/Latin dance practice and tutoring. Thanks to everyone who participated on CHCH Television's "Morning Live" show, with on-site reporter Lesley Stewart, and hosts Annette Hamm & Bob Cowan.
Thanks to Veli Bachvarova, Nelia Cabral, and Audrey Sobarum for leading students through danceTONE Belly Dancing, Cha Cha, and Salsa/Zumba. Thanks to students who made it to the studio bright and early: Matt & Carmen, Roya & Alex, Fan & Hong, Todd, KiAnne, Mel & Lynn, and David. Special thanks to Lynn Radake for the wonderful refreshments, Deborah Reilly-Smith, and last but least, Radhika, for coordinating the event. Photos are available at www.facebook.com/dancescapetv.
For more information about danceScape workshops, visit https://www.dancescape.com or http://lessons.dancescape.com. Connect with us now at www.facebook.com/dancescape and www.twitter.com/dancescape. View our collection of Dance LifeSTYLE videos at http://www.dancescape.TV.