danceScape on CHCH Television's "Morning Live"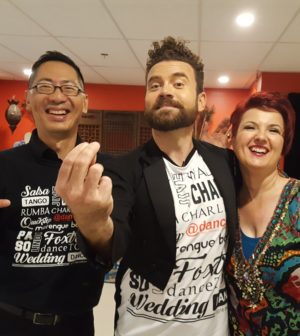 TV Personality, Tim Bolen, from CHCH Television's "Morning Live", showcased #Dancing in Downtown Burlington – with danceScape Ballroom/Latin/danceTONE fitness/danceFLOW; Tyrsa Ukrainian Dance School; Army of Sass at Brass Bombshells, and last but not least, Belly Up Belly Dance Studio.
See the full danceScape broadcast below, as well as "behind-the-scenes" footage at the filming. Photos are also available on our facebook page at www.facebook.com/dancescapeTV
Come experience all the fun Dance programs and studios in downtown Burlington! Special thanks to France from CHCH, Samantha from Burlington Downtown Burlington, Ontario, and Lucinda Bester Venter for showcasing Cha Cha! #shallwedance?
Video App – Learn to Dance Online
danceScape Music Playlists
Shall We Dance?
Archives
Copyright © 1997-2014 danceScape[TM] Corporation. All rights reserved. Website developed by ROBERT TANG.