Join danceScape at the Burlington Accessibility Awards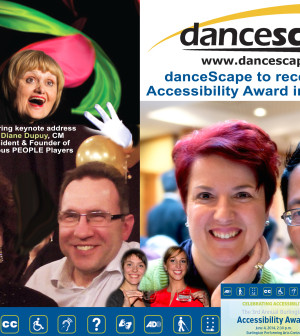 Recently, we received a telephone call from Marilyn Turner from the 2014 Burlington Accessibility Awards Committee. Unbenown to us, two wonderful students, Trish Pokorny and Rick Welland, had nominated danceScape for this year's Awards.
Organized by the city's accessibility advisory committee — www.burlington.ca/accessibility — the event will celebrate businesses, service providers and community members that have made significant steps toward improving accessibility for people with disabilities in Burlington.
Those of you who came to our last Footloose & Fancy Feast Event may remember our special presentation to Trish who was one of the inspirational people that we wanted to honour at the event.
Trish has sight challenges and has no vision in both eyes. With Rick, they started in our Absolute Beginners Ballroom class, and then progressed quickly to Level 1.
It is they who deserve the honour and we are so pleased that they will be joining us at the Awards Ceremony on Wednesday, June 4th at the Burlington Performance Arts Centre, 2:30 p.m. in downtown Burlington (440 Locust Street).
danceSape will receive an Award in the category of Education due to the studio's ability to effectively adapt instruction methods for sight-challenged students.
Diane Dupuy, President & Founder of Famous PEOPLE Players, will be making the keynote address.
If you are interested in sitting with us, there are limited complimentary seats available. Please call 905 633-8808 or Email [email protected] and join us at the ceremony to celebrate and honour our wonderful community of inspiring students