danceScape at Octagon Social Dance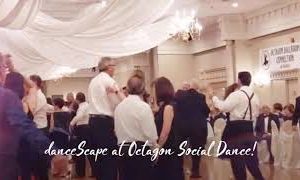 This was the first time we were able to attend this fun event at Octagon Social Dance. Congratulations to Robert Ho and the new organanizing committee for all their hospitality and care in ensuring everyone had a great time. Great mix of Dance music by Momentum Sounds and wonderful to reconnect with others whom we haven't seen for a long time!
Tickets are always limited at this event (next one is in Spring 2020) so for danceScape students, please make sure you sign up early if you would like to be part of more upcoming Social Dance outings! Special thanks to Matt & Carmen and Wendy Zemiak for letting us know about the event and connecting us with the new organizing committee!