danceScape at Circle of Friends Social Dance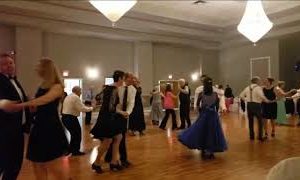 Fun evening with Circle of Friends! Thanks so much to Matt & Carmen and Colin for arranging tickets to this sold-out event. It's not often we get to take time to take a break from teaching and just enjoy a Saturday evening of Social Dancing with each other, and students for fun – and so wonderful to reconnect with other dance friends & fans whom we haven't seen in person for decades, great to catch up!
Congrats to Colin & Jan (who went out of the way to get extra tickets), Zeni & Greg, Garrick and Momentum Sounds/Linda & Pat Yugo for a great mix of Ballroom and Latin Music. (Special thanks, Marsha for the "fan", which owe you a new one, as broke it. 🙁 ). And so much food, as well – appetizer bar, dinner (both Stuffed Pork Loin AND Chicken), and dessert bar! Was almost like being on a cruise!
danceScape students who are interested in doing more Socials and supporting other event organizers like this, please connect with us in classes for our next Social Dance outing!